HTC Touch Diamond
The iPhone assault continues
Of course, even having an adapter won't allow you to charge your handset and use the earphones at the same time, the major failing of the all-in-one port school of phone design.
The GPS system always managed to find itself pretty quickly too reducing the time spent standing on street corners peering at Google Maps and looking lost with a flashing sign over your head saying "mug me".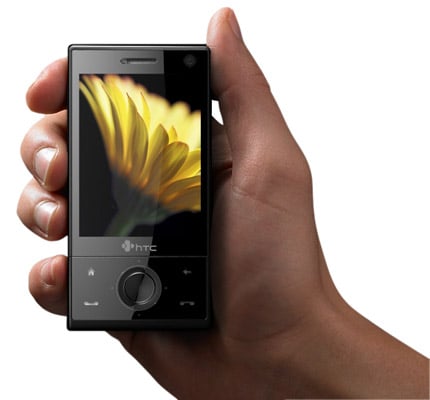 In the hand the Diamond is a pretty plastic affair, but still feels solid enough
HTC also bundles a game called Teeter. It's the usual 'get the ball in the hole using the accelerometer' affair but far better executed than is usually the case. The throbbing bump effect you feel when the ball touches the sides of the arena should bring a smile to the face of even the most jaded user.
The Diamond does all the mundane 'phone stuff' well. Signal quality was good, call quality fine, the speaker phone left nothing to be desired and the battery managed to survive a full working day of heavy use in a 3G area with Bluetooth on and the screen set to maximum brightness. Just stick it on charge overnight and you should be laughing.
We should also mention the Diamond's tendency to run just a little hot on occasions. It never hampers the usage, but it can get quite toasty warm around the back and leave you with sweaty palms.
Verdict
The Touch Diamond may not be perfect, but it's small, light, well equipped and comes with a smooth, clever and reliable 3D user interface that looks great and keeps you well away from Windows Mobile. The screen and web browser are both particularly fine. Our biggest concern is the lack of a memory card slot which on a high-end smartphone in this day and age is tough to explain or justify.

HTC Touch Diamond
Set to give the 3G iPhone a hard run for its money. But shame about the lack of memory expansion
Price:
Free on contract. PAYG: n/a. £440 SIM-free RRP