Samsung SP-A400B movie and business projector
The Wash & Go of the projector market
Review Forget TVs - to get a truly huge picture, a projector is the only way to go, and if you want to take full advantage of HD media, there's no better way to show it off. It needn't cost you a huge amount either.
Just £1000, in fact, if you opt for Samsung's SP-A400B. It's capable of displaying 720p HD content at screen sizes of up to 250in (6.25m) in the diagonal from a conveniently-placed coffee table. Shaped rather like Giger's Alien sporting a Davy lamp, its piano-black exterior is shiny, sleek and sensually curvaceous. Definitely designed to be seen, it looks expensive and intriguing. It's the perfect answer to the question, 'where's your telly?'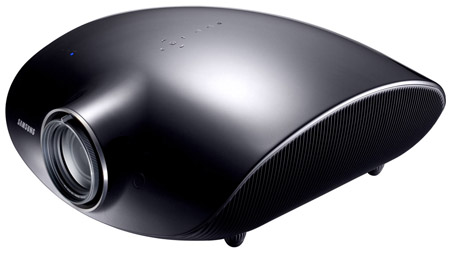 Samsung's SP-A400B: looks expensive
Now, work and play don't often mix – or so it's said. However, if there's one area where this adage holds true more often than not, it's in the world of projectors.
If you have a projector at work, it's probably one of those functional, business-like and basically boring lumps that ruin your Friday afternoons with endless PowerPoint tedium. Of course, you could get your own back by making off with it for the weekend for some big-screen gaming, but there are some important and usually mutually exclusive differences between projectors designed for the office and those made for home use.
We were therefore surprised to note that Samsung is promoting the SP-A400B as "optimised for both home theatre and business use". Those aren't easy qualities to combine, like being good at both dress-making and the didgeridoo. Think of sculpting a body perfect both for Sumo and for romping home a winner at the Grand National. What's good for one is usually a bit of a handicap for the other.
Sponsored: Practical tips for Office 365 tenant-to-tenant migration