Boozers rejoice - it's the USB wine tap!
Faucet through
If a glass of plonk is your limit after a long day at the office, then you'd better not read on, because a tipple at your desk is now much easier, thanks to the fabulous French invention that is the USB Wine Tap.
Can't see the video? Download Flash Player from Adobe.com
This ingenious device will pour you a perfect mouthful of Montepulciano directly from a tap that plugs into your computer's USB port. So, while you're working late on that big presentation, you can still have a quick drink without leaving your desk. The tap is even PC and Mac compatible.
But here's the best bit: a huge cellar is available at the click of a mouse. Just make your selection from the accompanying website, and your favourite vintage is delivered straight over your internet connection to your spiggot.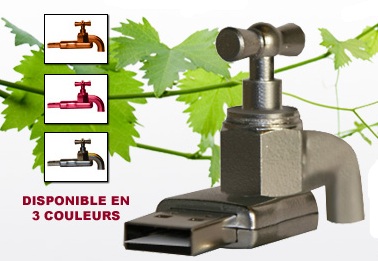 Sacre Bleu! It's the USB Wine Tap
It even works with wireless, we understand, though folk on 802.11b links may take longer to fill a bottle than 802.11n users do.
Macs, PCs, Linux boxes - vinibibulists of all kinds can take advantage of this amazing innovation.
Bootnote
Yes, it's a fake, but it's a very funny one and we compliment French website Mensup.fr on their excellent send-up of USB nonsense. We only wish it were true…
Thanks to reader Peter Houppermans for the tipple... er... tip