Yes! It's the Star Wars Nintendo DS stylus!
'I see you have made yourself a new lightsabre'
If your Nintendo DS' stylus doesn't deliver enough 'schvvvvoom' when you swing it, then why not pimp it up with a Star Wars lightsabre?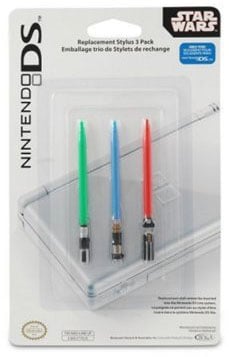 Minature lightsabres for the Nintendo DS
Both Nintendo and Lucas Arts have officially licensed the production of miniature Star Wars lightsabre packs, which gamers use to control on-screen action.
According to online retailer Amazon, the designs are "detailed replicas of lightsabers carried by Yoda, Darth Vader and the Jedi". So the Force will most definitely be with you.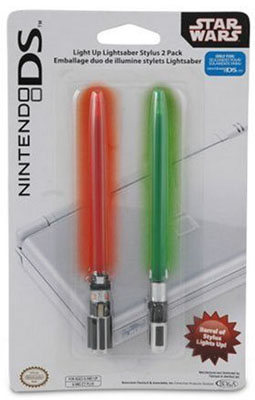 The larger lightsabres actually light up
You can buy either a pack of three red, blue and green lightsabers, or a pack of two slightly larger red and green lightsabers. Each stylus has its own unique handle design, but the coolest thing about the larger stylus pack is that each one lights up.
It's worth noting that none of the styli can be slotted into the handheld console's stylus slot.
The pack of three small lightsabers cost $8 (£4/€6) and the larger pack of two is priced at $17 (£8/€11). Both packs will be available later this month online from Amazon.
If you're more of a Star Trek fan though, then perhaps you'd prefer a cool beer opened by the USS Enterprise?