What's going to power Small, Cheap Computers?
Atoms, dragons and Windows?
Between the mobile phone and the laptop computer a new class of device is emerging, and control of it is up for grabs - it appears the next battle will be fought between seasoned industry scrappers and young bloods over the 'armtop'.
Mobile phones are becoming more and more like computers - link one to a Bluetooth keyboard and an external VDU, and it can offer an approximation of a desktop computing experience. It might be a pale imitation, but the important thing is that the attempt can be made.
Meanwhile, laptop computers are getting smaller and cheaper, partly because even Windows struggles to consume the processing power available in today's top-end machines - thus reducing the need to buy new ones - and partly because the manufacturers are trying to expand the market.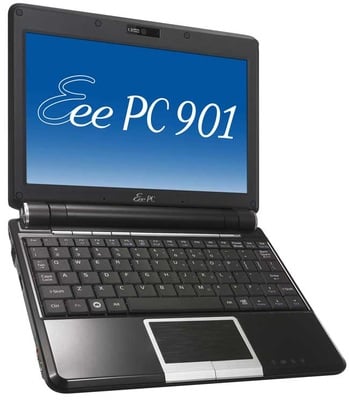 Asus' Eee PC 901: Atom based, XP-friendly
Charles Dunstone of Carphone Warehouse compared home computer ownership to the telephone of 30 years ago, when each house had one handset, generally in the hallway or kitchen, and there was no such thing as a private phone call. Transferring that analogy to computing, there should be an explosion in mobile computing in the home - though what kind of computing experience those devices will offer is open to debate.
Windows XP has been trying to squeeze itself into these new devices, and Microsoft has extended the life of the OS as that market expands - no one is pretending that Windows Vista is ready for the armtop. But Windows is expensive, so many manufacturers are using flavours of Linux as a cheaper alternative that provides all the functionality their users need.
XP might seem a strange choice for mobile devices, but it has one important ally - Intel. Intel's new Atom processor, a low-power chip compatible with their x86 platform, will run Windows XP, and no doubt will find itself in many small laptops and computing devices including set-top boxes and their ilk. But in the mobile arena the dominant chip architecture is ARM.
ARM is a licensed core to which manufacturers can add their own capabilities, or choose to develop their own implementations that recognise the ARM instruction set. ARM-based processors completely dominate the mobile computing sphere - around 90 per cent of mobile phones, including the iPhone, pack at least one ARM processor.
Atom-based devices are emerging now, but comparing power consumption is difficult and both sides can offer statistics to argue their case. It seems likely that ARM will continue to offer better battery life, even with the vast improvements Intel has put into the Atom, but Atom will likely scale up more easily and thus be able to run Windows XP at a usable speed.