Dualit DAB Lite radio
Howdy doodley dooo...
There's a sensible recess area for the aerial to retract fully into, as many radios don't provide anything like this, and antennae often end up getting damaged if the product is carried around a lot. There are also some useful non-slip feet that do a good job anchoring the product even on challenging surfaces.
Despite these useful features, the overall appearance and feel of the product is still only good rather than great. It's not the most solid DAB radio we've ever tested.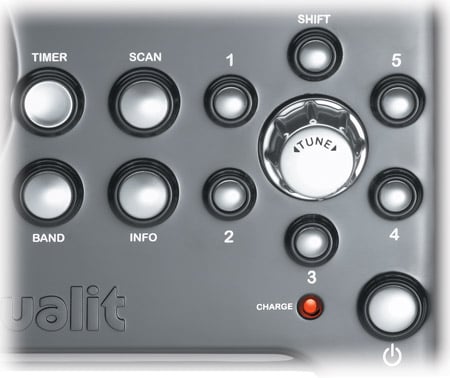 Navigation is uncomplicated and intuitive
FM - with RDS - and DAB are supported with an adequate number of 20 favorite stations - ten DAB and ten FM - which are easily programmable and accessible from the main numbered buttons on the front. The display is described as "oversized". We wouldn't necessarily go along with that description, but the white-on-blue window does provide a decent size of text and clarity for the various station info and broadcast status information available.
Start up is trouble free and quick. We got 29 stations right from the off, about average for the part of the country we were testing in. Navigation is uncomplicated and intuitive, with no need to refer to the manual. There is an alarm and a snooze function, but as this machine is heavily aimed at users in the kitchen, a special 'egg timer' function has been added to make sure you get the perfect boiled egg and soldiers to go with your sounds.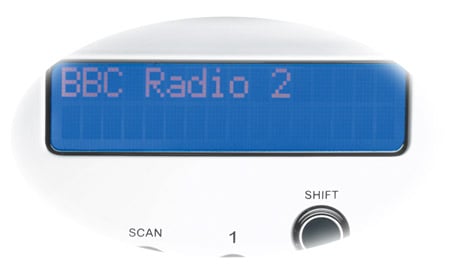 The white-on-blue window displays clear information
It's nice, quirky feature, but not something that we felt would add real value over time. Much better would have been an input for an MP3 player as so many of the radios in this price bracket do now. The unit can be powered by the mains or AA batteries. If you're using rechargeables, the radio has a built in charger so the batteries can be kept topped up and ready for use.