Dualit DAB Lite radio
Howdy doodley dooo...
Review This latest offering from Dualit is based on the iconic toaster products the company is better known for. Bored of knocking out breakfast, Dualit is now knocking out music to accompany your muesli.
Now before we go any further, a few words on DAB itself. There has been a lot of knife chucking of late, so let's just take stock for a minute. According to the latest Q1 RAJAR figures, nearly 11 per cent of everyone who listens to radio does so using a DAB radio. This compares to the 2.1 per cent who listen over the internet and 3.2 per cent through digital TV.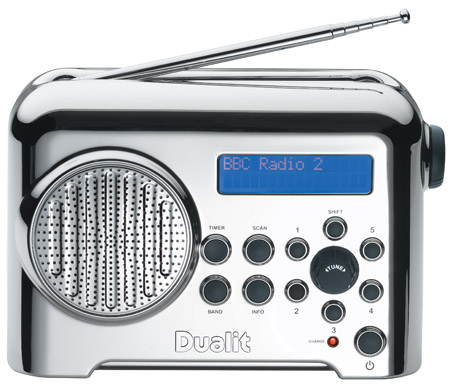 Dualit's Lite: DAB hand
According to market number-cruncher GfK, cumulative sales of DAB products stand at 7.05m at the end of Q1 following a record Christmas and growth of 28 per cent year-on-year. DAB radios are currently selling at more than 2m a year and can be found in more than a quarter of UK homes.
No one is saying it hasn't been a challenging time for DAB, but the current situation is most accurately seen as a sharp learning curve as broadcasters learn how to promote and get the most out of the new format. The continued commitment from the BBC - and, next year, Channel 4 - also ensures DAB will be around for a little while yet.
Now, back to the Dualit: measuring 225 x 155 x 90mm and weighing in at 1.15kg it certainly looks the part, with an ever-so-slight hint of art deco influence in its minimalist design. Its silver buttons and dials are quite attractive and have a decent click action to them. However, we did find that the main volume knob on the side of the review unit was a little loose fitting and could easily become detached.