Intel Atom 230 ultra low-power desktop CPU
Build your own Eee
Review We recently reviewed Asus' Eee PC 901, which uses the new 1.6GHz Intel Atom N270 processor. Atom uses the same 45nm technology that you'll find in the latest 'Penryn' Core 2 CPUs and it packs in some nifty power-saving features that result in a TDP of a mere 2.5W which makes it a natural choice for Small, Cheap Computers.
But there's another side to Atom, as Intel also sells it in desktop form, the 230, which is likewise clocked at 1.6GHz. Atom processors are genreally soldered onto the motherboard so your choice of Atoms is limited to a single model. Buy an Intel D945GCLF motherboard - it was codenamed 'Little Falls' - and you get a 230 as part of the package.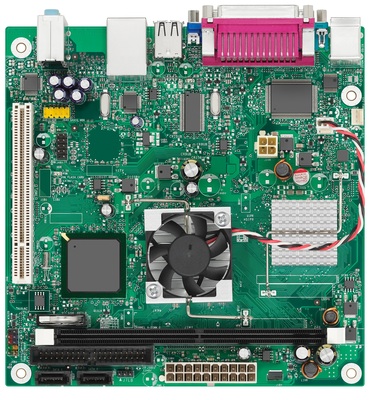 Intel's D945GCLF: Atom on board
Take a look at the photo and you'll see that the board's a Mini-ITX model that measures a mere 171 x 171mm. That's small. Take another look and you'll see that it's something of a strange Mini-ITX design as it uses desktop PC ATX power connections. There's a 20-pin power connector and a four-pin ATX 12V connection which seems like overkill as the power draw of Atom is tiny. The D945GCLF has a single PCI expansion slot, so there's no chance you'll be plugging in a beefy graphics card, and this makes the power connections even more of a puzzle.
When we requested a D945GCLF sample from Intel the response wasn't especially encouraging so we took the plunge and bought one. That's not quite as bold as it sounds as Atom is very cheap. Intel sells the Atom 230 for $29 per CPU in batches of 1000 and the board and chip arrived at our door for £57 including VAT and carriage.
Had we wished we could have paid an extra £3 for an enhanced version that has the ATX 12V connector wired to the main power block so you see, we're not the only ones who wonder what Intel was thinking.