Snail mail goes hi-tech – literally
Molluscs deliver email by 'hand'
Email's near-instant delivery speed is one of its best selling points, but a group of British artists are challenging that with a work that uses living snails to deliver email in a true 'snail mail' fashion.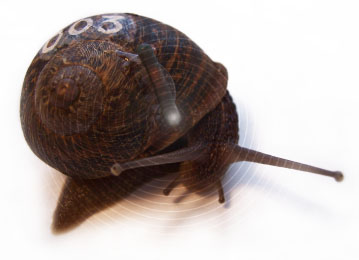 The Real Snail Mail art project sees snails delivering emails over RFID
The "slow art" project by Vicky Isley and Paul Smith of the National Centre for Computer Animation at Bournemouth University, is called Real Snail Mail. It consists of a website that sends emails to a tank of three snails, each of which move messages around by the RFID chips fitted to their shells.
At the start, users must log onto the Real Snail Mail website to send a message to a "collection point" at the snails' holding tank. The message is then held there until one of the RFID-equipped gastropods slithers within range.
The snail then lugs the virtual message around on its back until it slithers within range of the "dispatch centre," at which point the message is then forwarded to the recipient.

Austin (center) is the fastest choice for snail-based email delivery
But don't expect your message to be delivered very quickly. So far, the three snails have only delivered 14 messages.
If your message is picked up by Agent 002 - called Austin - then you'll have the best chance of a speedy delivery because his average delivery time is 1.96 days. Agent 001, more familiarly known as Cecil, has an average delivery time of 3.26 days.
Agent 003 may soon face an official warning from the Postmaster General though, because he hasn't delivered a single message yet.
Real Snail Mail will be on show at Siggraph, a computer graphics conference being held in Los Angeles in August.
Sponsored: Minds Mastering Machines - Call for papers now open