3G iPhone packs in $100 of hardware - analyst
Asia manufacturers hear ring of tills, jump for joy
Apple's 3G iPhone costs just $100 to make, it has been claimed. Yet Asian component makers are jumping for joy at the boost they expect the handset will make to their revenues.
The new iPhone's not even on sale yet, but US market watcher Portelligent has already totted up the cost of all the components - the bill of materials (BoM) - it believes the handset contains. It's guesstimate is $100, EE Times reports.
That's just the cost of the bits, mind. On top of that, Apple has to fund development, marketing, software, assembly and so on, but even so, Portelligent's figure is less than half the $280 that market watcher iSuppli estimated the 8GB 2.5G iPhone cost to make back in January 2007. After the handsets, launch Portelligent whittled that figure down to $170, though that number likely applies to the now defunct 4GB model.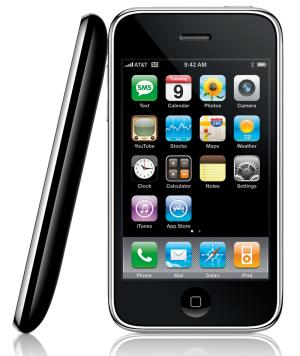 Apple's 3G iPhone: kerching!
Apple will be selling the 8GB 3G iPhone for $199, less to its operator customers, who may then discount further on the back of hefty monthly fees - down to €1 in Germany or even nothing at all in the UK.
That's expected to boost demand for the phone, which was popular enough when it cost £269 over here, had a lower battery life, no 3G support and lacked GPS.
No wonder, as Chinese-language newspaper the Commercial Times reports, Taiwanese component manufacturers are rubbing their hands with glee at the prospect of soaring sales driven by the iPhone.
The paper claims Morgan Stanley has forecast 2009 iPhone sales reaching 27m units, up from 5.2m in 2007. Apple has said it expects to sell 10m iPhones by the end of 2008.