Toshiba touts hi-def laptop trio
One for gaming, two for movies
Toshiba has dipped its toes into the mobile HD market, with the launch of three Qosmio laptops equipped with the manufacturer's dedicated HD content processor.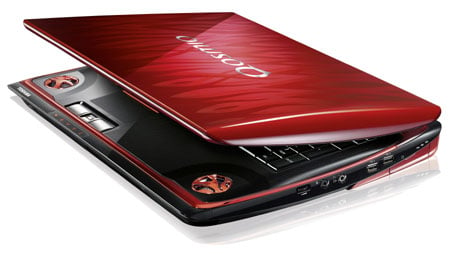 Toshiba's Qosmio X300: comes with a 17in screen and 'all the latest technology'
Although the manufacturer's not yet willing to release the full specifications of each machine, it's at least positioned the gaming -oriented X300 as the trio's daddy.
The machine has an LCD cover decorated with a "Fire Shark" theme, which makes it look as though flames have gripped the machine. This red theme continues around the keyboard, with red LED illumination used to highlight the multimedia bar, touchpad and integrated tweeter speakers.
A Toshiba spokeswomen told Register Hardware that the X300 is equipped "with all the latest technology," but so far the firm's only been willing to state that this includes an Intel Core 2 Duo Extreme CPU, twin hard drives and Nvidia GDDR3 SLI graphics.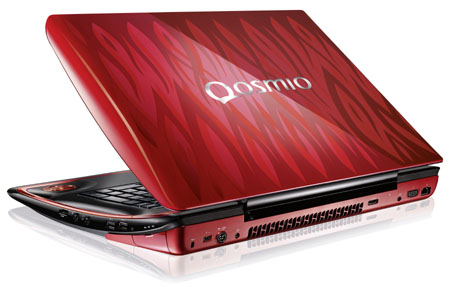 Dual HDDs and a memory of up to 8GB aren't to be sniffed at
The G50 is Toshiba's mid-range Qosmio machine, whilst the F50 is its entry-level model. Both machines come with a 640GB hard drive and, although the basic amount of memory isn't stated, we know each has a "system memory expandable up to 8GB".
One thing's for sure though, all three will be equipped with Toshiba's Quad Core HD processor - aka the SpursEngine. The processor's designed to take the pressure off the main CPU by handling all HD content. Just not on batteries...
None of the machines come equipped with a Blu-ray drive – did you really expect they would be? – all standard-definition upscaling is done by the Quad Core HD. Downloaded HD content is handled by the chip too.
Each machine also has a webcam built into the inner of the lid, which allows films to be controlled with gestures, like a flick of your finger, instead of fumbling around for a remote.
Official prices for either three of the Qosmio laptops haven't been given out yet, but the F50 and G50 will go on sale in UK in Q3.
Click for the Qosmio F50 Picture Gallery