Teens use technology to party in strangers' pools
Google Earth and Facebook spawn pool-crashing craze
Tech savvy teens are using Google Earth's splendidly clear aerial shots of the UK to launch a summertime craze – pool crashing.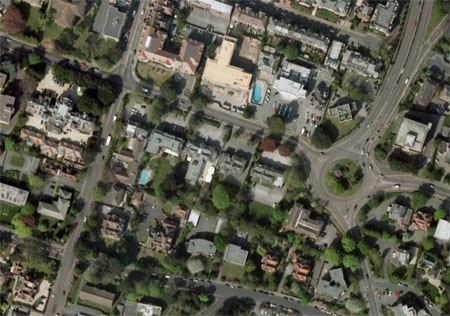 <Google Earth's used to identify pool-equipped victims and then Facebook helps organise the crash
Teens begin by surfing Google Earth's satellite images to find houses with swimming pools — or at least paddling pools. Once a target has been identified, sweaty swimmers then use Facebook to arrange an organised, but uninvited, pool-crash.
A spokesman for Devon and Cornwall Police has already told the Daily Mail that owners of swimming pools should be on their guard. The spokesman reminded any pre-pubescent readers already reaching for the Google Earth icon that "using someone else's pool is trespassing and therefore illegal".
Owners of several plush poolside properties have already returned home to find teenagers taking a dip in their man-made lakes or their spoor: beer cans, dog-ends and vomit floating atop their once crystal-clear pools.
Mobile phones, of course, seem to be an invaluable tool for a good pool-crash. Apparently, mobile numbers were doled out on Facebook for the organisers of one such event held earlier this week between midnight and 3am – well, it was a school night…
Sponsored: Becoming a Pragmatic Security Leader