Cell-based GPU zaps laptop batteries, admits Toshiba
Yet GPU launches in... er... laptops
Exclusive Toshiba has announced a pair of laptops that use its Cell-based SpursEngine graphics chip. But don't expect the chip to work when the notebook's on the road - SpursEngine consumes too much power, Register Hardware can reveal.
The Japanese giant has rebranded SpursEngine for UK audiences. Due to be incorporated into two laptops later this year, the GPU will now be called the Quad Core HD processor.
And, to be fair, it does have four cores: a quartet of the Synergistic Processor Element (SPE) used in the Cell chip that powers each Sony PlayStation 3 and - next year - Toshiba TVs.
Toshiba today said it will include the chip, as promised, in a number of notebooks, specifically the Qosmio F50 and G50. The GPU enables "premium" - ie. HD - DVD upscaling, video editing, "high speed" video transcoding and "unique hand-gesture control" which offers "unique product navigation using simple hand movements".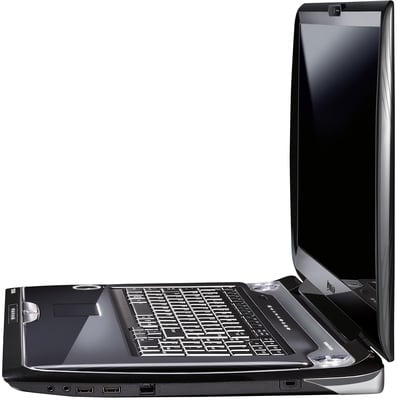 Toshiba's Qosmio G50: with hand-gestures and superior DVD upscaling - just not on battery power...
Here's how Tosh describes it: "By using each notebook's integrated web-camera, Toshiba's Gesture Control technology recognises simple hand movements, such as a 'thumbs-up' or an open palm, and quickly translates them into commands for controlling AV functions. The result is the unique ability to control a number of multimedia applications with a wave of the hand or a flick of the wrist."
What's wrong with a good, old-fashioned infra-red remote, we want to know? At least it works when the laptop's running on battery power. The Quad Core HD processor certainly doesn't. At today's launch, one machine was displaying an on-screen message to the effect that gesture control was disabled because the laptop was in battery power.
When pushed, a Toshiba staffer admitted that the Quad Core HD chip is turned off when the laptop is disconnected from mains power. He confessed that the Quad Core HD is simply too power-hungry. Had Toshiba enabled the part, battery life would fall to a mere "40 minutes".
That's probably why the company's not yet flipping the finger to the likes of Nvidia and AMD - the new Qosmio's, despite the Quad Core HD, still need a second GPU to handle the graphics. Toshiba admitted that the "all new Qosmio laptops will be equipped with the latest Nvidia GeForce graphics processor units".
The F50 and G50 will go on sale in UK in Q3.
Sponsored: Becoming a Pragmatic Security Leader