Sony launches understated telly line
TV to match your furniture
Sony has opted for a less intrusive design in its latest Bravia range, which the electronics giant claims blends understated lines and gently-rounded curves to create a telly that, well, sits comfortably in your living room.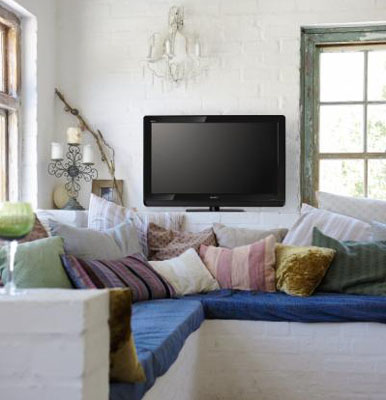 Sony's S4000 Bravia range: rubbish at Hide and Seek
The 26in, 32in, 37in and 40in screens each incorporate Sony's "draw the line" philosophy, which uses such design styles to create understated TVs that… ahem… enhance "the total TV viewing experience without distracting from what's on screen".
But if Sony's also had to resort to talking up the range's integrated stand, which allows for "instant screen-angle adjustment" by the way, then clearly it's scrambling for selling points.
Only the 40in screen has the full 1080p resolution, while Sony describes the other three sizes as simply "HD ready", which, in the US at least, means the screens must be capable of displaying a 720p signal at the very least. But all four do have three HDMI input ports, which is good news for Blu-ray Disc fans and PlayStation 3 gamers.
The 40in model also has the added benefit of a 24p frame rate, which should make for the best playback of Blu-ray films.
Unsurprisingly, the 40in S4000 has the highest contrast ratio at 33,000:1, and while the 26in and 32in models are relatively close at 30,000:1 each, the 37in model only offers a 22,000:1 contrast ratio.
Eco fans will be pleased to know though that all four screens have an auto shut-off function designed to automatically turn the telly off when there is either no input signal or no operation during a certain period of time. Hopefully, this doesn't mean the telly will suddenly shut down while you're doing the Sunday morning cleaning and simultaneously watching the Hollyoaks omnibus.
An official UK release date or price range for Sony's S4000 Bravia range hasn't been seen yet.