SanDisk Sansa Fuze
Small but perfectly formed
Sad to say that the bundled phones are a bit two-bob. Stick 'em in the bin and buy a decent pair.
Video playback from the 224 x 176 screen is rather limited. To get anything to play on the Fuze you will need to transcode it using Sansa Media Converter which can be downloaded from the SanDisk site. The Converter pumps everything out as MPEG 4 20f/s DivX, which looks OK but no more. Let's be honest, who actually buys an MP3 player with a 1.9in screen to watch video anyway? The Fuze also supports JPEG image files.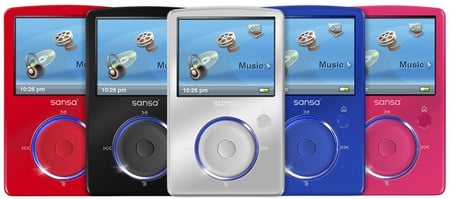 Colours to suit all moods
Media transfer is straightforward. The player can be set to either MTP, MSC or Auto-Detect so you can either sync up via a desktop media player; drag and drop if you are using Windows; or just drag and drop if you are a Mac or Linux aficionado. The Fuze also comes with a handy on-the-go playlist feature - adding a track simply requires you to hold down the centre button while it's playing.
SanDisk claims the Fuze delivers 24 hours' continuous play from a full battery charge. We got 21, so no complaints on that front.
In the value for money stakes, the Fuze compares well with the iPod Nano being about £20 cheaper like for like. Of course, you can currently get an 8GB Micro SDHC card for less than £50 which means you could end up with a 16GB player for less than £150, and that isn't bad at all.
Verdict
SanDisk is excited by the idea that we'll soon all be hot-swapping our media from our phones to our cars to our hi-fi systems to our MP3 players. Maybe. In the meantime, we just like the idea of a small Flash-based MP3 player that sounds great and comes with the option to add a shedload of extra memory yet doesn't make us go poking about deep into the player's menu structire to find the content it holds, as we had to do with iRiver's E100.

SanDisk Sansa Fuze
The Fuze sounds great, and is well made, easy to use and comes with the option to – one day - add up to 32GB of song storage.
Price:
£65 / $80 (2GB) £75 / $100 (4GB) £100 / $130 (8GB) RRP