SanDisk Sansa Fuze
Small but perfectly formed
For those users who feel the need to zip through their operas or audio books to the best bits, the rewind and fast-forward audio scan ramps up its speed nicely, depending on how long you hold the control down, allowing you to skip through even the longest recordings with ease. Though you can't bookmark audio, the Fuze will ask you if you would like to resume the last audio book file you accessed from the point where you stopped it. Similarly, if you switch the player off mid-track it will resume at the same place when you switch it back on.
The only slight menu-related glitch we noted was that the successful importing of album artwork seemed a touch random. When transferred onto the player, some folders took their artwork with them, others didn't. This really only bears mention as the Fuze has two settings for viewing content by album, one that shows six albums per screen with no art and one that shows four but each with a thumbnail of the cover. It's a nice idea, but only if you can get the artwork to show up in the first place.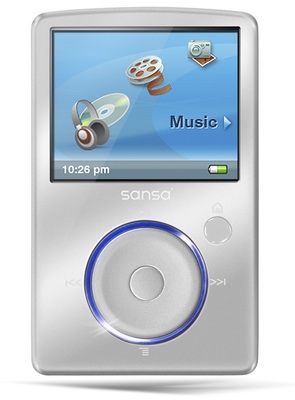 Nice songs - shame about the video
Currently, audio file support is limited to MP3, WMA, Audible and WAV, but a promised firmware support will soon add Ogg Vorbis and Flac to that list. The latter is particularly valuable as SanDisk has long made a song and dance about being the only mp3 player manufacturer to make its own audio chips. Relevant or not, such a claim was a little pointless when its players wouldn't support a broader range of codecs than any other chip maker's offerings.
The Fuze comes without of any bells-and-whistles sound modifiers, making do instead with ten pre-set and one customisable EQ settings. This is one instance of less definitely being more. With the EQ set to Normal, the Fuze pumps out a solid and coherent sound with plenty of bass. Listening to the epically pompous, but still fun, Pandora's Box Original Sin project from Jim Steinman underlined this - from thunderous drum lines, through avalanches of tortured guitars to grand pianos being abused in a way that would make a Steinway engineer cry, the Fuze never missed a step, always presenting a lucid and balanced sound.
A selection of Beethoven piano sonatas performed by Wilhelm Kempff showed the Fuze to be no less talented when it came to serious music, the tone being little short of perfect. In short, the Fuze is easily a match for the Samsung YP-P2 in the sound stakes, and that's quite a compliment in our book.