SanDisk Sansa Fuze
Small but perfectly formed
Thankfully, the Fuze doesn't make much of a palaver of integrating the memory card data with content held in the main memory. We filled our 4GB test player then slotted in an equally full 4GB Micro SDHC card in. The player took 20 seconds or so to get its act together and combine the two into a single media library. That figure will probably rise - a lot - when it comes to combining larger amounts of on-board and memory-card data, but as it only does this when a change is made to the media content rather than whenever the player is powered up, we reckon it's something users will learn to live with and i a small price to pay for the end benefit.
The Micro SD slot is recessed to just the right degree: easy to get your cards in and out, highly unlikely to be press by anything accidentally and spit cards out at inopportune moments.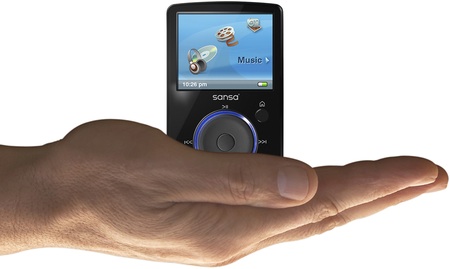 Small but plenty of storage
Feature-wise the Fuze comes with an FM radio that lacks RDS but lets you pre-set your 40 favourite stations, and a voice recorder that's coupled to an excellent built-in microphone. You can set the duration of radio recordings to snag your favourite radio shows, which is a handy little feature. Recordings though are stored as WAV files, which seems a touch unnecessary. If you plan on recording anything of length make sure you have space in the internal memory as a ten-minute recording is going to take up about 55MB.
The user interface is a more-than-decent bit of design with very few flaws. The scrollwheel allows you the move through the straightforward menu structure without lag or delay, while basic navigation is aided by the presence of the 'home' button. Hit this key at any time and you're taken straight to the main menu. Hit it while you're looking at the main menu and it takes you to the Now Playing page. This is not exactly rocket science, but it isn't half useful.
When checking out the music menu, we were relieved to find that clicking on Artist took us to the list of each artist's albums rather than directly to the list of all his or her songs. Chalk one up for common sense!