Review Even though SanDisk tells us the future of MP3 players is devoid of built-in storage...the future isn't here yet. The new Fuze player slots into the Sansa range and comes with either 2, 4 or 8GB of internal memory.
Measuring 78 x 48 x 8mm and weighing really not much at all - the spec sheet doesn't actually give a weight, and we don't having a set of apothecary's scales to hand – while also having with a 1.9in screen, the Fuze clearly has the perennial iPod Nano in its sights.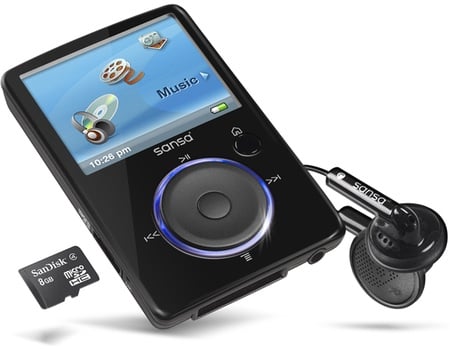 SanDisk's Sansa Fuze: impressive, most impressive
When you first get your paws on the Fuze it's hard not to be just a little impressed. The front of the player is made of a fine-looking glossy plastic with a fully flush screen, while the sides and back are in the same colour but with a matt finish making for a better grip.
The round control wheel – which actually spins – and select button are fabricated from a similar matt plastic giving the the Fuze the feel of a very high-quality product. Our review unit came in black, a colour that lends itself particularly well to the Fuze's design aesthetic.
External controls consist of said navigation wheel and 'home' button on the front, and an on/off/lock switch on the right side. At the bottom is a 3.5mm 'phones socket and the bespoke SanDisk USB port. The only other external feature is the most important" the Micro SDHC card slot on the left side.
That card slot is really what the Fuze is all about, its party trick being that it fully integrates any media held on the card with that held on the player. In effect, you aren't buying a 2, 4 or 8GB player but rather a machine that can be expanded by up to 8, 16 or - soon - 32GB.
Sponsored: Practical tips for Office 365 tenant-to-tenant migration