Business failures to rocket as growth nosedives
Tech sector to the rescue?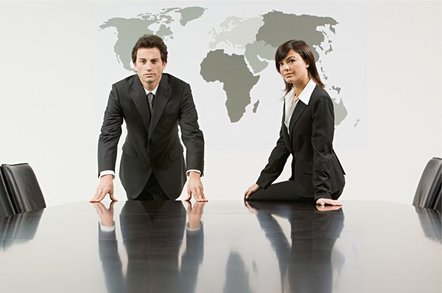 UK economic growth will soon slow to its lowest level since 1992, while a drop in consumer confidence combined with a hike in costs could signal a near 20 per cent rise in businesses going bust, two new reports have warned.
Employers' group the Confederation of British Industry (CBI) and leading accountant BDO Stoy Hayward fired off the separate yet equally gloomy financial forecasts today.
Just three months ago the CBI revised downwards expected GDP growth for 2009 from 2.1 per cent to 1.7 per cent. Now it has shaved off a few more basis points, putting expectations at 1.3 per cent amid higher fuel and food prices that have squeezed household spending and put a dent in companies' profit margins, according to CBI director general Richard Lambert.
The business group said consumption growth will be down to only 0.7 per cent in 2009 – also the lowest in seventeen years.
Inflation, which the CBI expects to hit 3.8 per cent within four months, will hamper the Bank of England's ability to cut interest rates and increase spending, said the group.
"That said it is important to remember this is not a forecast for recession. Back in the early 1990s, we had a prolonged period of plummeting consumer demand and there were large job cuts across the board," said Lambert.
"These days, firms are leaner and more efficient and our economy's reach is far more global. We should avoid believing a recession is inevitable, or talk ourselves into unnecessary trouble."
However, BDO warned that the number of business failures in 2009 could be the highest since the dotcom bust in 2002, which perhaps paints an even more worrying picture about Blighty's economic prospects for the coming year.
It forecast an 18 per cent leap in company insolvencies to 19,124 in 2009, compared with 16,168 in 2007.
Echoing the CBI's report, BDO fingered rocketing oil prices, which earlier this month hit record highs of almost $140 a barrel, as well as banks putting a cap on lending as the credit crunch starts to bite.
The accountant added that the outlook for UK firms has worsened amid "spiralling inflation figures" and falling house prices. It said corporate profit growth would be at its lowest since the early 1990s, predicting it to dramatically slow to just 0.9 per cent this year and next.
"With the number of business failures expected to decrease in 2010, there is light at the end of the tunnel. But until then companies need to batten down the hatches and put in place some tactics to weather the storm," said BDO biz restructuring partner Shay Bannon.
Despite all the painful predictions about the UK's slowing economy that appears to be on the cusp of a recession, the BDO said that the technology, media and telecom sectors would largely steer clear of the downturn as businesses attempt to claw back spending by investing in IT. ®