Opera unleashes Kestrel
What's the new browser like?
After months of public inactivity, Opera has been racing to release the latest version of its desktop browser. No guesses why. For the first time since 2003, Mozilla's FireFox looks like a modern browser, and not a skinnable memory heap testing tool.
Opera 9.50 is out today, and we've been on the case of Kestrel since the first public preview last autumn.
Long time users will clock that speed and compatibility have been addressed in the new version. Not that you could ever call Opera slow, but JavaScript execution is noticeably faster in 9.50. I found the speed-up to be most noticeable on the Mac, where Opera now reigns supreme: easily beating Apple's own Safari for speed and usability.
Opera has long been the place where browser ideas are generated, only to be copied by Mozilla and Microsoft and later incorporated into their browsers years later. Well, the latency has shortened: one of the key innovations of 9.5, full history search from the address bar, has been pinched by FireFox.
The new version also sees the first significant upgrade to the built-in email client M2 since it first appeared five years ago. M2 baffles people as much as if a strange piece of alien metal fell to earth - but I suspect the confusion is lower amongst Pick or BeOS users. The mail client is built around a very fast database, so queries are returned almost instantly.
Originally, the idea of folders was rejected (as it is today by GMail) and users were expected to organise their mail via filters, which were real-time search queries. It's made a few concessions over the years - but the main improvement here is technical, rather than presentational. The mail client now runs in a separate thread, so it no longer holds up web browsing if the client is stuck on, say, an IMAP transaction.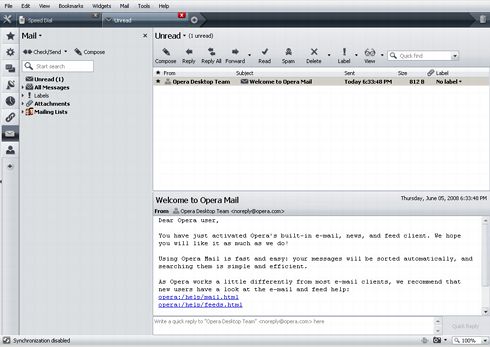 Opera's Mail is much better in the new version
Coming from the Mac world, I'm horrified by the choice on offer when I have to use a mail client on Windows. There's The Bat! - a Moldovan mailer which is well written, reliable and long on features, but a bit like having to juggle rusty knives. There's Thunderbird, which is neither well written, nor reliable, and very short on features. And Outlook Express (now called Windows Mail). 'Nuff said. So I've always been grateful that Opera provides a quick way of accessing multiple accounts with minimum fuss.
Opera makes much of its "Opera Link" feature, which began life as synchronized bookmarks. In practice I haven't found it all that useful: if I want to view Slashdot, eBay or the BBC's footie scores on a mobile, I'll use the mobile versions of the sites. However, with the addition of notes this could get more popular.
Bittorrent is ready and present, although you'll have to rummage around in the about:config settings to set the upload and download rates.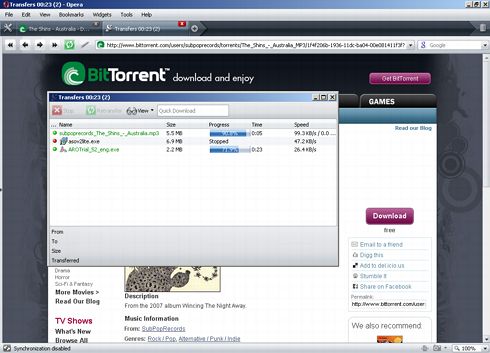 Everyone can be a freetard, thanks to Opera's built-in Bittorrent client
At the last minute, a new skin was introduced as the default. It's one "that feels inspired by high-end audio equipment and Scandinavian design", according to CEO Jon von Tetzchner. It's not too bad on the Mac (I prefer Opera's current Mac skin) but the Windows default is glossy, like Vista, as you can see: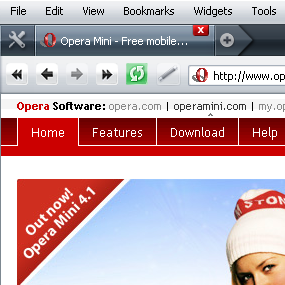 Opera's new skin
So how does Opera stack up? As I mentioned earlier, FireFox has seen the biggest improvement in years, which is very welcome. But it still takes hours of downloads and tweaks which come built-into Opera. I was happily using FireFox the other day for eBay, and when I went to find the "Refresh page at x minutes" option. And there wasn't one! Isn't this a default in every browser? Apparently not.
I've been an Opera user for too long.
But quite disconcertingly, the fastest browser I've used recently has been ... IE7, on Vista, on my MacPro at home. Er, yes: I know: Microsoft in decent browser shocker!
It comes at a price, though. It's Vista, which means you must leave the system on for a couple of days while it thrashes (over nothing) before settling down. But once it does, it loads pages instantaneously. This may not be enough to make this particular user want to defect to Vista, but once you load up IE7Pro to add mouse gestures and lots of other nice features to the bare bones (and ugly) IE7, and you probably won't want to seek out an alternative.
Opera remains perhaps the meanest piece of consumer code in the world, with the wazoo optimized out of out it. And it's also the most helpful to an intelligent user: that usability remains streets ahead of the competition. Unlike the non-profit with the $500,000 a year CEO, Opera knows that it has to sell on quality, not political correctness, or religion. So unlike some modern religious cults, they still put people first. ®
Sponsored: Detecting cyber attacks as a small to medium business