Qinetiq rolls out 'third party' SDK for killer robot lines
Droid-legion hax0r warlords should get in on the beta
Killer robots are a bit like iPhones - tons of hype, but not that many units actually sold. Many people reckon that this is because these amazing, potentially multifunction devices' potential is not fully exploited. And that, of course, is because of the lack of a robust developer community.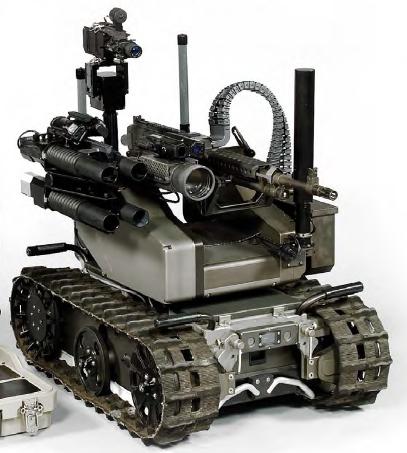 At last, hardware that could run a real killer app.
Lord knows whether or not that's true for smartphones, but there are definitely some people who believe it is for war robots. For instance Qinetiq, everyone's favourite privatised-in-a-shower-of-gravy former UK gov tech bureau. As part of their transition into the private sector, Qinetiq found it necessary to buy up some profitable companies with US defence contracts, and one of these was Foster-Miller - maker of various well known combat droids.
Thus it is that yesterday saw Foster-Miller Qinetiq North America rolling out a third-party software development kit for the company's war-bots. The SDK is called "Symphony".
"There is no shortage of qualified companies and experts working on new robotics technologies that will change combat forever; the trick is getting those new solutions to the warfighter," said Qinetiq droid army supremo Dr Bill Ribich.
"Symphony is that last, critical piece of the open robotics puzzle that allows industry to develop what the customer needs and get it into the field faster than ever."
Apparently, Symphony is in beta test with "leading providers" both commercial and public-sector, and Symphony 1.0 is expected to go on general release to developers "later this year".
The SDK will allow third-party programmers to apply their skillz to the full panoply of Qinetiq battle machines. These include the fearsome MAARS, which packs a 7.62mm medium machine gun and quad-barrel grenade launcher; also the SWORDS, which has been trialled with even heavier ordnance including a tank-busting rocket launcher. That said, the majority of Qinetiq droids actually seeing field service have been relatively mundane bomb-disposal TALONs, typically packing nothing worse than a water disruptor*.
Recent claims by jihadi bullshitters that they had hacked SWORDS robots in Iraq to turn on their American overseers in a frenzied mechanical bloodbath were discounted. However, should Symphony perhaps turn up on the torrents, such stories will move from the obviously-untrue to the just-barely-possible sector.
You want IT angle? You came to the right shop today. ®
*Although a disruptor is potentially deadly against humans close up, it is single shot and short range.