Second ISS spacewalk runs on rails
Light tinkering with Kibo
Busy STS-124 mission specialists Mike Fossum and Ron Garan yesterday completed their second spacewalk outside the International Space Station, in the process carrying out preparatory work for attachment of the "Experiment Logistics Module - Pressurized Section" to Japan's Kibo laboratory.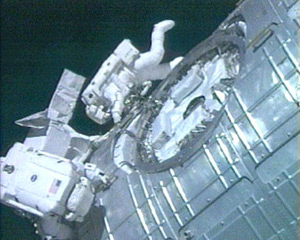 During the seven-hour, 11-minute jaunt (see pic), the astronauts installed two cameras on Kibo which will be used to "judge clearances for the module's robotic arm", removed an external video camera suffering from a failing power supply and "made preparations for a nitrogen tank assembly swap they will make on their third spacewalk".
The Kibo pressurised logistics module was delivered by Endeavour on mission STS-123 back in March. It's 11.2m metres long and 4.4m in diameter, and will "allow astronauts to work in a comfortable environment with air composition and pressure similar to Earth's".
The other main component of Kibo is the "Exposed Facility" - a "staging area for long-term experiments in open space, as well as Earth and astronomical observations", which will be delivered and attached during 2009's mission STS-127. ®
Sponsored: Practical tips for Office 365 tenant-to-tenant migration