Carphones making a comeback - sort of
More vroom, vroom than ring, ring
Cars and gadgets go together like fish and chips. So much so that one intrepid retailer has hollowed out the guts of several toy cars and put a mobile phone inside them.

It's a BMW, but also a phone. Genius!
There are three cars to choose from: a Ferrari, an Audi TT and a BMW. But the talking point of each - literally - is that all three have a mobile phone slotted into the undercarriage. So instead of changing the oil or pumping in petrol, you simply have to slot in a SIM before you're driving chatting away.
The Audi comes in white and the BMW is available in boy-racer black. Both feature 2.2in touchscreens and a 1.3-megapixel camera. There might not be much storage in the boot, but 1GB of internal memory is available and Bluetooth is included too.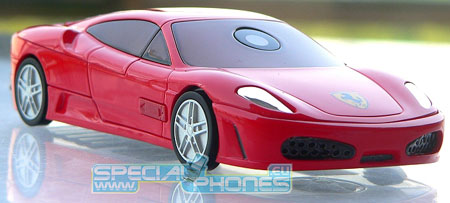 The Ferrari has a windscreen-mounted camera
Each dual-band phone also supports MP3 tunes and MP4 video, while setting you back around £112 (€132/$224). But, hey, at least they're road-tax and congestion-charge exempt.
If you're looking for something with near-identical features, but set within a more stylish body, then the classic red Ferrari will be more up your street.
The phone has a 2.2in LCD touchscreen, supports MP3 and MP4, and has dual-band connectivity. Surprisingly, given that it's a Ferrari, the phone is slightly cheaper than the others: £100 (€120/$200). It's also available online in yellow too.
Sponsored: Practical tips for Office 365 tenant-to-tenant migration