Google takes another bite out of NASA with 42-acre research center
All your base can please belong to us?
Google has clinched a $146m lease with NASA's research park in Mountain View, California to develop a 42-acre technology campus on the space agency's land.
Perhaps jet-setting Googlers were tired of driving the extra two miles to the company's own headquarters after they touchdown on the NASA-run airfield, where Google already has paid about $2m for exclusive parking rights.
NASA said today that Google will use the leased acreage to construct up to 1.2 million square feet of offices and research and development facilities at the Ames Research Center. It will pay $3.66m annually for 40 years, after which additional 10-year terms can be negotiated. Altogether, Google may rent the land for 90 years.
That is if we still have any interest in text ads after The Singularity.
"This long-term lease agreement is a key component of Google's strategy for continued growth in Silicon Valley," said David Radcliffe, Google real estate veep, in a statement.
Construction of the NASoogle campus will proceed in three phases. Groundbreaking is scheduled to begin by the end of September 2013. The second phase will start by 2018, and the third by 2022. Most of the development will be office and R&D space in a campus-style setting. But this is Google here, so there will also be company housing, parking facilities, and fine amenities such as dining, sports, fitness, and child care too.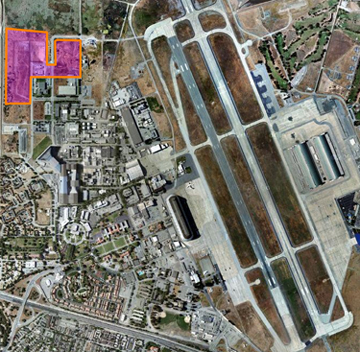 Approximation of Google's lease at Ames
NASA will have control over the project during its construction, including approving the design and issuing building permits. Generous utilization of ball pits and fireman poles weren't mentioned on the release — but we're sure Google has those on the negotiating table. ®
Bootnote
Groundbreaking in 2013? Hmmm.
We're reminded again of one-time Mountain View darling SGI, which also bought up all the land it could find for fancy facilities. Sadly, SGI's long-term revenue did not live up to its expectations.
As many of you know, Google now inhabits SGI's old headquarters, while SGI operates out of a business park in Sunnyvale.
But who is to deny Google's optimism?
Sponsored: Practical tips for Office 365 tenant-to-tenant migration