Solar powered PMP shines down
Free power juice
Whilst Apple plays it cool over solar powered gadgets, a Japanese company has cut to the chase and unveiled a media player powered by the sun's warming glow.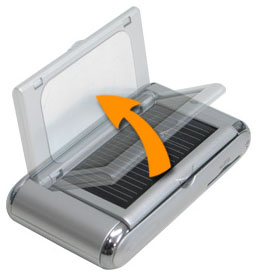 Thanko's solar powered PMP: a bright idea?
The sunny little Portable Media Player (PMP), from Japanese gadget specialist Thanko, may only have a 176 x 220 pixel display, but also features a fold-out solar panel.
The panel not only allows the player to be watched whilst, say, sat on a table, but also ensures that sunlight is still directed towards the energy-generating cells. But, should the sun go behind some clouds, then the player's internal battery can be used instead.
Thanko's PMP may only have 4GB of internal storage, but the player accepts SD cards too. A USB port is also featured for direct data transfers. Several audio formats are supported, including MP3 and WMA, in addition to videos and still images.
The little PMP can also pick up FM radio and, if your assistant's out getting the suntan lotion, the player can also be used as a voice recorder.
Thanko's solar-powered PMP is available now in Japan for around ¥9500 (£45/€58/$90). A UK price or release date isn't available.