Samsung Soul SGH-U900
Immortal inner spirit, on sale from Seoul
There is, however, the usual touchpad issue of accidental button pressing in a way that would be more difficult with a conventional navigation pad. The auto slider lock reduces the chance of this, but when you're holding open the phone you have to be careful not to let digits stray too close to the pad. It's rarely a disaster but unintentionally launching the music player or browser can be a tad irritating.
The menu system is straightforward stuff, with a typical Samsung menu set-up fronted by a grid of main menu options (that can be switched to a list, if preferred). Sub-menus can be negotiated by scrolling with the touchpad, or tapping keys for numbered options. The Soul's 2.2in, 16 million colour, QVGA display provides a decent enough platform for viewing content and working the phone.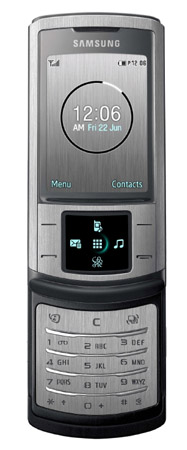 Classy casing, but hulky in the hand
The casing provides a higher quality feel than other Ultra phones. The brushed metal and rubberised plastic build look classy, although its 112g weight and 105.9 x 49.5mm dimensions make it feel more substantial than its 12.9mm thin profile might otherwise suggest.
The slider numberpad is a good size for digits, and although it has a flush surface, keys are adequately separated for easy texting. As well as the usual alphanumeric pad array, there's also a handy multi-function switching key, and a dedicated video call button – the Soul has a secondary camera for face-to-face calls above the display.
The 5 megapixel camera is tucked away under the casing when closed, so the slider has to be extended fully for any main camera action. Its five million-pixel shooter puts it in a category with the highest resolution cameraphones, but it's not quite as sophisticated as Samsung's imaging-intensive G800, which has an optical zoom, and it doesn't have a star-brand lens optics from the likes of Carl Zeiss.
Nonetheless, it's still capable of taking some high quality images. It has a sensitive and responsive autofocus system, with a 2-step capture button, which enables you to take more precise shots, and a macro shooting mode that can deliver excellent close up shots.
Additional shooting gadgetry includes a face detection software option, helping you to focus automatically on faces when composing shots, an anti-shake digital image stabiliser for improved handling (particularly good for lower light shots), and a Wide Dynamic Range feature for upping the quality of images shot in complicated lighting situations.
Sponsored: Becoming a Pragmatic Security Leader