Samsung Soul SGH-U900
Immortal inner spirit, on sale from Seoul
Review With touch control, a slim slider design, HSDPA mobile broadband and a 5-megapixel camera, the flagship Samsung Soul is aimed squarely at the hearts and wallets of style-conscious mobile buyers.
Working from the blueprint of its ultra thin-as-you-can phone family, Samsung has created a premium mobile with a more substantial build, and a heftier feature count that includes a 5 megapixel camera, high-speed HSDPA 3G connectivity – and Samsung's new Magical Touch user interface.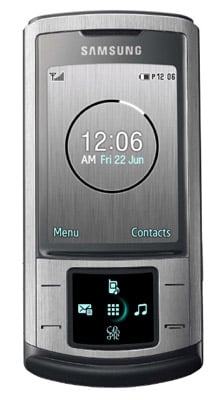 Samsung Soul SGH-U900: buzzing feedback
Touch control is nothing new for Samsung; it has a fast expanding range of fully touchscreen models. However, Magical Touch isn't a full-screen tap-to-control system, it's effectively a touchpad alternative to a conventional navigation pad.
Located where you'd normally get a D-pad control on a mobile, the touchpad features illuminated touch sensitive icons that change according to function or application is being used – it presents feature shortcuts in standby mode, shooting controls when the camera's in action, music player buttons when the tune player is engaged, and so on.
Haptic feedback provides a buzzing acknowledgment that touchpad buttons have been pressed, and usefully you can adjust the sensitivity of the pad to suit your touch tastes. Touchpad icon colours can be switched, too, with a spectrum of colours to choose from.
Unlike the LG KF600's similar-in-principle InteractPad touch control, the Soul's main control panel doesn't rely solely on a touch sensitive pad. Alongside it are standard pressable softkeys plus call and end keys. Initially this appears a bit odd and jarring as you move between feather-light touch and normal finger pressure, but you quickly get used to it.
Functionally, too, that makes it easier to regard the Magical Touch pad system as a smart D-pad control rather than anything more complicated you have to figure out. As such, it's a simple, intuitive way of working your way around the phone with which most mobile users will feel immediately familiar.