Fujitsu Siemens Computers announces Amilo series
The brand new range is aimed at an "across the board" audience, from a "sleek" entry-level desktop to a "high performance" gaming machine and notebooks that cater for frequent use when mobile.
Fujitsu Siemens Computers told a conference in Frankfurt this morning that it intends to "raise the bar" with its new end-to-end, uniform design concepts.
Today's launch consisted of three product lines in the new livery, with Amilo - the brand for the consumer products - in high-contrast black and white.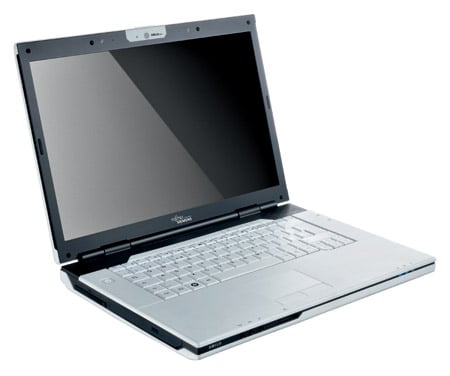 Fujitsu Siemens Computers Amilo notebook
The Amilo 3000 series includes consumer-targeted desktop, laptop and peripherals, while the Esprimo notebooks and desktop PCs are aimed at professionals. Alongside these are the Celsius workstation range and the Scenicview display series.
Pricing details weren't available, but the Amilo 3000 series will start with the PA and PI notebook range on sale in June, followed by the XA models becoming available in July, and the SA and SI shipping in August. The Esprimo professional notebooks and PCs will be available from the summer.
Specifications weren't available, but FSC spoke exclusively to Register Hardware and said new features on the consumer notebook range would include spill proof keyboards and application keys. On the desktop PCs, options will include a high-resolution camera for web conferencing, BrilliantView widescreen format and a Blu-ray drive.
The existing Lifebook range will be continued, but will become the only FSC laptop range that will exist outside of the new re-designed series.
Sponsored: Detecting cyber attacks as a small to medium business