Samsung SGH-F490 cameraphone
An altogether more run of the mill device
Review The first two devices to run the "Croix" touchscreen UI didn't float our boat. The Armani was high on style, low on ability, the F700 tried to be some sort of smartphone all-things-to-all-men.
The new home of the Croix, the F490, is pitched as an altogether more run of the mill device; no silly designer labels, no pretensions to smart phone ubiquity.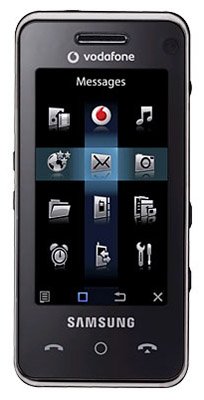 F490: The proprietary "Croix" UI is identical to that on the F700
As with the F700 the base spec of the F490 is solid enough without being exceptional. Connectivity-wise you get tri-band GPRS/GSM, 3.6MB/s HSDPA and v2.0 Bluetooth, while the other headline features include 130MB of on-board memory, an microSDHC slot and a 5 megapixel auto-focus camera.
Lacking the F700's slide-out keyboard, the F490 is a more svelte and sleek handset measuring 115 x 53.5 x 11.8mm and weighing 102g. That 4.2mm saving in thickness makes the F490 a far easier device to manage one-handed, it now being possible to reach the entire screen with your thumb.
The proprietary "Croix" UI is identical to that on the F700 as is the underlying application package. The UI is pleasant to look at, straightforward to use and nicely responsive, and won't ever leave you regretting having chosen a touchscreen phone.