Pentax snapper plumbs the depths
The Action Man of compacts?
With summer just around the corner, Pentax has decided to deepen its compact camera range with the addition of a waterproof snapper capable of reaching the deepest depths – sort of.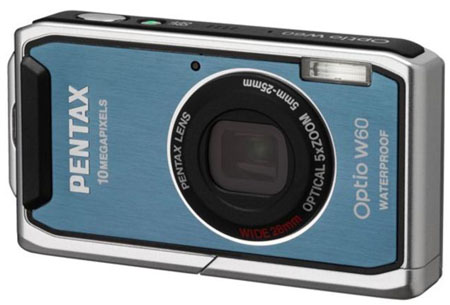 Pentax's W60: photograph fish or icebergs, your choice
The Optio W60 can reach underwater depths of up to 13 feet and stay there for up to two hours, which would have been useful for David Blaine during his underwater breath test in 2006.
If exploring the Earth's poles is more up your… er… street floe then you'll be glad to know that the W60 can also be used in temperatures "well below freezing", according to Pentax.
Needless to say, if the Earth poles or ocean floors aren't your idea of fun photography, then Pentax also states that the W60's suitable for "surfing, snorkeling, skiing, fly fishing, swimming, kayaking, and backyard adventure".
What kind of adventures can you have in your backyard, we wonder? Or perhaps Pentax is suggesting you should explore someone else's...
A ten-megapixel sensor is built into the waterproof snapper, alongside a 5x optical zoom 28mm wide-angle lens. The camera can also capture 1280 x 720 quality video, which is complimented with an underwater movie mode.
Pentax's Optio W60 will be available in the US in July for $330 (£160/€200). A European release date or price hasn't washed up yet.