American auto dealer offers free handguns
Obama sparks US economy
Max Motors is aware of America's crime problem. And it wants to be part of the solution. With this in mind, the Butler, Missouri auto dealership is offering a free handgun to anyone in the market for a new car or truck.
As reported by the BBC, Max Motors recently launched a "Guns and Gas" promotion. If you purchase any vehicle before May 31, you can choose between between two free gifts: a $250 gas card or a $250 handgun.
"Everybody has a right to protect themselves," store manager Walter Moore told us. "So we're giving them guns."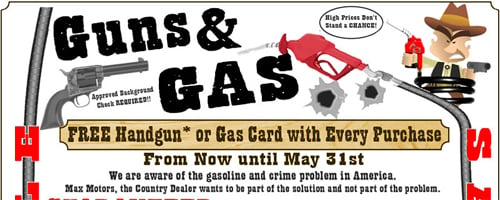 Max Motors' crime solution
Sales have quadrupled since the launch of Guns and Gas, and according to Moore, this has little do to with the gas. "90 per cent of all buyers are going for the gun," he said. "Out of about 45 people, just two went for gas. And one of them said she had plenty of guns at home."
Buyers are given a certificate for a free handgun of their choice. But Max Motors recommends the Kel-Tec .380. Speaking with The BBC, owner Mark Muller described it as "a nice little handgun that fits in your pocket".
Muller also said that his Guns and Gas promotion was inspired by recent comments from US presidential candidate Barack Obama: "We did it because of Barack Obama," Muller explained. "He said 'All those people in the Midwest, you've got to have compassion for them because they're clinging to their guns and their Bibles.' I found that quite offensive. We all go to church on Sunday, and we all carry guns." ®
Sponsored: Detecting cyber attacks as a small to medium business