Incredible folding laptop untucked on eBay
Origami computing
Laptops are designed to be portable, so a 19.5in machine is really defeating the object. Unless, that is you buy one that folds up. Now, thanks to one eBayer, you can.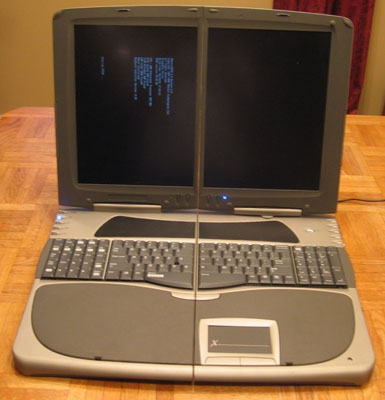 Hinges allow the laptop to fold and for its screen(s) to be rotated
An intrepid eBay seller has posted a Xentex-brand prototype laptop that that has a hinge down the middle, allowing it to literally be folded in half. Although this won't detract from the machine's weight, and make the laptop twice as thick, the ability to 'fold' your laptop away is unique.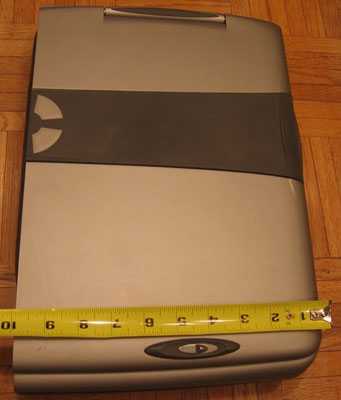 The laptop folds to almost half its original width...
The hinge also means the laptop's screen is split into two 13.3in panels, but extra hinges at the bottom of each screen allow them to be independently rotated. So, two people could be watching the screen from either side of a table, although only one person would have control of the keyboard.
Unfortunately, the seller hasn't been able to install Windows onto the laptop yet and it doesn't have an internal CD-Rom drive either – but, hey, neither does Apple's MacBook Air. But it does have a built-in floppy drive.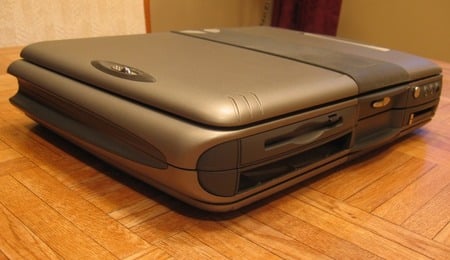 ...but twice the thickness
The Xentex machine's also suffered a few damages during its lifetime. For example, small plastic latches that hold the screen in place whilst the laptop's folded in two are broken and the trackerball is missing from the keypad.
Internally, it's got an 850MHz Athlon processor and more than 128MB of memory.
On the plus side though, the seller only wants $100 (£50/€75) for it. So, you could think of it as a fixer-upper opportunity...