Epson rolls off A4-size e-paper panel
William Caxton turns in his grave
Epson may be inking plans to replace tabloid newspapers, because the firm has developed a prototype A4 size e-paper display.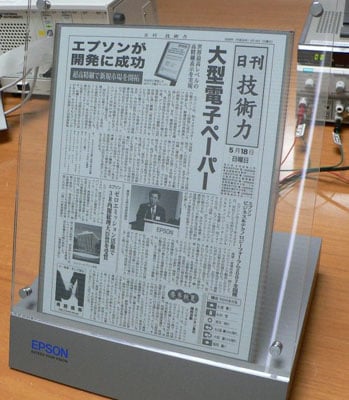 Epson's A4 e-paper: the largest display of its kind
Image courtesy of Tech On
At 13.4in, the display is considerably larger than Epson's previous attempt a building a big e-paper screen – a 7.1in model. The new display has a pixel count of 3104 x 4128 and a pixel density of 385dpi. It also has a 10:1 contrast ratio.
The company unveiled the A4 e-paper earlier this week in Los Angeles. According to a report by Tech On, an Epson spokesman said at the launch that the screen is an attempt by the firm to test "the feasibility of replacing papers".
The screen isn't thought to be touchsensitive, which could put it at a disadvantage because Taiwanese manufacturer PVI has already developed the what it claims is the world's first e-reader that integrates touch-sensitivity.
Epson hasn't confirmed if it has any hard plans to produce the A4 screen commercially.