Samsung Adidas F110 miCoach personal trainer phone
Pint-sized Mr Motivator
Sure, there may be more sophisticated dedicated pro-running systems out there, but there's nothing in the mainstream consumer gadget area – either MP3 players or phones – that comes close to the miCoach's impressive coaching complexity. It's a device you can use for its normal-hours, day-to-day job as a phone, but which will also encourage you to slip on those trainers to get fit.
Samsung has done a tidy job with the music player. It's well integrated with the miCoach system, as well as being usable on its own. The 1GB of on-board memory is enough for a couple of hundred tunes, but it's a shame the F110 doesn't have a memory card slot to boost that capacity further. Decent quality ear-gear is supplied with the miCoach phone - they hook around the ear with in-ear buds for a noise-reducing fit.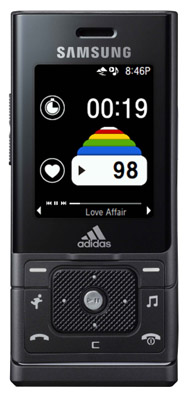 Samsung has done a tidy job with the music player
It's a two-part headset with a 3.5mm jack socket mid-way enabling you to add your own preferred headphones for running or more sedentary listening. The connector positioning on the side of the phone is aggravating, owing to the snag-factor you encounter when trying to remove it from the armband or, to a lesser extent, your pocket. The supplied earphones need a bit of adjustment too to ensure a snug fit when running, but produce fine audio playback once in place.
You can get some high quality sound out of this mobile. The user interface looks classy and is easy to use, with the navpad doubling up as the music player controls. As well as the more typical categories – albums, artists, genres, composers, most played, etc. - the music player includes workout-friendly categories – alongside your motivation songs, there are Tempo and Stride categories, plus an FM radio favourites slot.
You can classify tracks automatically by tempo - slow, medium or fast - sing the supplied Samsung PC Studio Multimedia Manager software on your PC before copying them to the phone. Stride tracks offering suitable pavement-pounding rhythms can be downloaded too. Alternatively, you can sync tunes with Windows Media Player 11, or drag and drop tracks over in mass-storage mode. Transferring by Bluetooth is another option – both for copying and stereo playback using wireless headphones or speakers.
In addition to tune-playing, the miCoach application also has space for a separate image gallery, should you wish to snap and file training related pics. These can be applied to individual workouts too, for visual reminders of where you ran - or how beat you looked afterwards.