Samsung Adidas F110 miCoach personal trainer phone
Pint-sized Mr Motivator
The miCoach's sliderphone design is attractively tactile, with a textured rubber-feel back and clever roughened navigation button panel that provides suitable purchase for sweaty fingers. Grooves separate the largish buttons to facilitate easy texting. It has a reasonable sized 2in, 262,000-colour display, but its modest 176 x 220 resolution really limits the graphical performance. The miCoach's predominantly monochrome user interface comes across as stylish, nonetheless.
The Adidas branding is subtly applied at the bottom of the screen – just enough for others to clock your phone's sporting pedigree. The navpad is familiar stuff, with quick keys in all directions, including an additional "My menu" list of personalised shortcuts, plus soft-menu keys below the display. Dedicated miCoach and music player buttons flank the navpad, providing quick access to this phone's main attractions.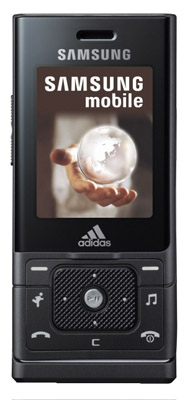 The branding is subtle, but enough to show your phone's sporting pedigree
At 101.5 x 45 x 14.5mm, the miCoach isn't particularly small, but its 80g weight makes it feel light in the hand - and in the Adidas-branded armband holder that comes with the device.
The miCoach user interface is nicely thought out. Tapping the runner button on the front slips you into the application, where you're presented with a carousel of six icons representing the coaching system's various elements.
You can load in vital statistics (age, weight, etc.) and then try an assessment run to judge your fitness level. Slip on the Adidas heart rate monitor, connect the running shoe stride sensor - both are automatically detected by the phone - plug in the supplied earphones for a running commentary or tune listening, and you're ready to go.