Revealed! The new face of the Eee PC
Model plan
The sun may be about to set on Asus' famous Eee-assessing blonde beach babe. She's apparently been supplanted by another woman, one with a taste for the finer things in life - and Small, Cheap Computers™.
The new face of the Eee is known only by the alias 'The Housewife', and was spotted this week appearing in an Asus Eee PC 900 presentation that happened to find its way into the Register Hardware office.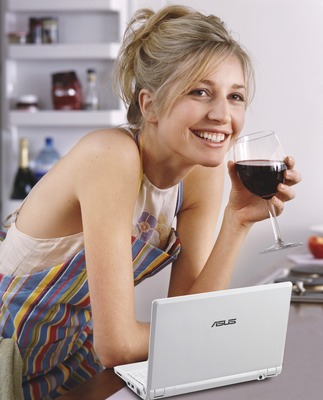 Asus Eee PC and (new) friend: bottoms up
Happy to surf the net on her compact, kitchen-based laptop, the Housewife clearly likes a tipple or two. Not only is she seen here enjoying a fine red wine, but that's clearly a bottle of champers we can see tucked into the fridge door behind her.
And that stripey pinny suggests she favours fixing dinner for friends to lounging around in the sun and uploading snaps to Flickr.
Not that she's much of a Photoshop expert, judging by the rather faux shadow beneath her Eee...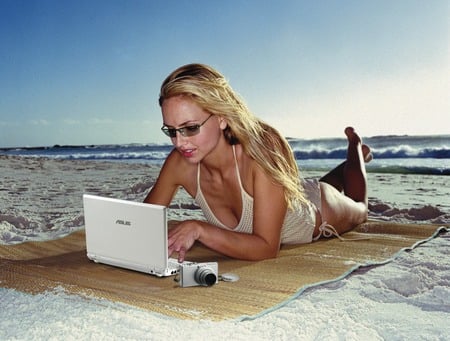 Asus Eee PC and (old) friend: now in the twilight of her autumn
It's all part of an attempt by Asus to attract "housewives and office ladies" to the joys to be found from the company's 7in - now 8.9in - white plastic pal.
So is it time for our old friend to roll up her towel, pack away her camera, sun lotion and sub-notebook and disappear into the setting sun?
Let us know what you think...
Related Sub-notebook Reviews
Vye mini-v S37B
Asus Eee PC 900
Apple MacBook Air
Toshiba Portégé R500
Maxdata Belinea s.book 1
Asus Eee PC 701