Man barred from posting crimes on YouTube
Interim ASBO for 'Leeds's dumbest criminal'
An Englishman has been ordered to stop bragging about his criminal behavior on the internet after an extensive video library of his misdemeanors was spotted on YouTube by local authorities.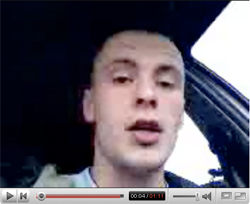 Andrew Kellett, 23, was served yesterday with an interim anti-social behaviour order (ASBO) at Leeds Magistrates' Court that bans him from posting any image or description of unlawful activity on the internet, the Times reports.
Kellett's 80-video collection posted under the handle mrchimp2007 mostly involve reckless and high-speed driving, although it also features some drug use, theft, trespassing, and other criminal acts for good measure.
"Kellett must be in the running to be Leeds's dumbest criminal," Leeds City councillor Les Carter told the The Times. "He has handed us the evidence against him on a plate."
Under the order, Kellett has been officially banned from being a criminal camerawhore as well as taking part in dangerous driving, failing to observe traffic regulations, or act in a manner which causes alarm, harassment or distress to any person in England and Wales.
The interim ASBO will last until it receives a full hearing on July 15. Failing to follow the order could result in jail time, said Carter.
Kellett tried to fight the ASBO, claiming he was only a bystander of the crimes. He also said restricting his internet activities could be a breach of his right to free speech.
As of this publication, Kellett's YouTube profile is still available, with the majority of his videos still up. Most of it is boring, twitchy-cam chuckling inside of a car — but highlights include "Who pays for petrol anyway?" and "Big Turners first day out h.m.p." (Some NSFW drug use in the former). ®
Sponsored: Becoming a Pragmatic Security Leader