Meizu Mini Player SL 8GB media player
Flac and Ogg support to the fore
Review Despite having been busted at the CeBIT show for alleged copyright infringement, Meizu makes some stylish media players that compete with a host of 2, 4 and 8GB Flash players with 2-3in screens.
The Mini SL is not a brand new design, but it has recently been given an improved screen, some new firmware and has shed a few millimetres around the waist due to the installation of a smaller, but more efficient battery.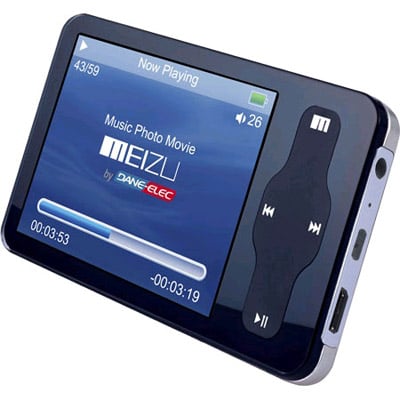 Meizu's Mini Player SL: seen a few improvements
Beyond the fact that the Mini is small and light - it measures a compact 78 x 46 x 7mm and weighs only 48g despite a sturdy aluminium chassis - two features immediately separate it from much of the herd. The first is file support: this boy handles Ogg and Flac audio alongside the more common MP3, WAV and WMA. It also supports AVI and Xvid video files.
The second feature is the control interface. The Chinese gadget maker clearly felt the need to sit down and re-invent the wheel on this one. You navigate around the player's UI using an oddly-shaped pad to the left of the screen that's both pressure- and touch-sensitive.
The majority of functions are managed by finger drags either vertically or horizontally across the pad, and since there is no 'action' key as such, settings are confirmed by swiping out of the menu or screen in question once they have been selected. It's not exactly what we'd call intuitive. Using the small touchpad with the right degree of delicacy does take some practice and is not for those with unsteady hands or the DTs.
Sponsored: Detecting cyber attacks as a small to medium business