Philips probes possibilities of hi-tech pants
Make sure they're clean
Register Hardware can state with confidence that Philips' latest patent application really is total pants. The firm has designed a pair of briefs that supposedly monitor the wearer's blood pressure.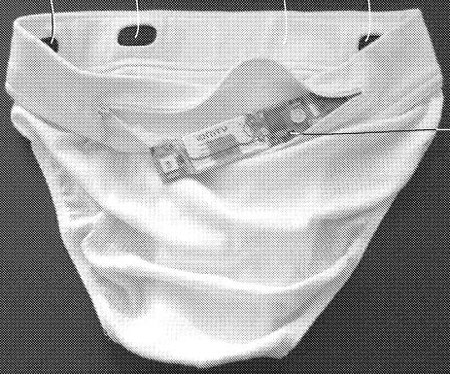 Philips' pants: monitor your blood pressure and keep you in place
The hi-tech undies have sensors sewn into the waistband that measure the wearer's pulse wave velocity – the rate at which pulses of blood stream through a person's circulatory system.
By measuring the time it takes for one pulse to pass between two sensors, the smalls will be able to calculate the wearer's blood pressure.
Philips' pants could even do away with the need for the traditional sphygmomanometer used to measure blood pressure. So, next time the doctor asks you to whip off your pants rather than roll up your sleeve, there's no need to fear the worst – he or she may simply want to check your blood pressure.