Boffins' breakthrough boosts fuel cell output by 50%
Membrane drain plugged
Scientists at the Massachusetts Institute of Technology have come up with a way to improve the power output of fuel cells by more than 50 per cent: a better membrane.
The material was developed specifically for direct methanol fuell cells (DMFCs) and sits between the cell's two electrodes. It prevents current flowing directly through the cell but also allows hydrogen nuclei - protons, essentially - to pass from the positive electrode to the negative, where they help complete the cell's energy-producing chemical reaction.
Most DMFCs use a membrane material called Nafion - it's a sulfonated tetrafluorethylene copolymer, chemistry buffs - but MIT said this isn't up to snuff: it allows tiny amounts of the methanol fuel to pass through, reducing the potential energy output of the cell.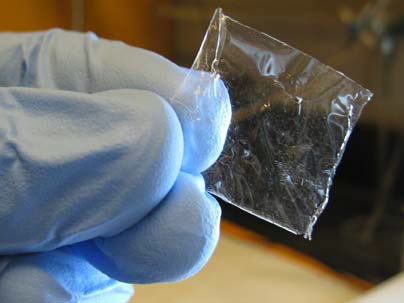 MIT's membrane: better fuel cells ahoy!
MIT's approach: block Nafion's pores. They coated the substance with a newly developed film - details of which the Institute is keeping mum about for now - and immediately measure the aforementioned 50 per cent increase in energy output over time. That's a sure sign methanol isn't getting through.
Developing the film as a membrane in its own right, the team were about to create a new material that, they claim, is two orders of magnitude less permeable to methanol than Nafion but matches that substance's proton conductivity.
The research work continues: the team is examining the material to see whether it's feasible to use as an alternative to Nafion, or works best alongside it.
MIT's discovery comes a week after Sharp boffins announced a new fuel cell structure that delivers the world's highest power density from a DMFC.
Sponsored: How to Process, Wrangle, Analyze and Visualize your Data with Three Complementary Tools