Games consoles not green enough, claims Greenpeace
Manufacturers must do more to rid their products of nasties
The PlayStation 3, Xbox 360 and Wii may all be green in the eyes of the European Restriction of Hazardous Substances (RoHS) directive - but all three have failed to meet Greenpeace's standards.
The organisation today published a report that details exactly how many dangerous chemicals it claims are used in the manufacture of each of the three consoles. The report is the result of Greenpeace's own deconstruction of each games machine, with further analysis conducted on its behalf by two independent laboratories.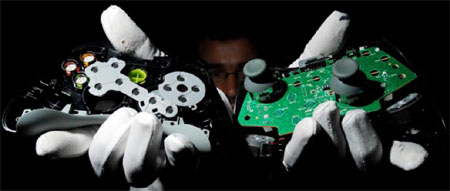 Caution! This product contains phthalates - according to Greenpeace
The study uncovered a whole host of chemicals in each console that, in Greenpeace's eyes, could damage the environment, your health or both. However, all three consoles comply with RoHS directive, the organisation admitted, as they have to, by European law.<
Indeed, the report adds little beyond chemical analysis to the Greenpeace's last attempt to take on the console giants, back in December 2007. Now, as then, the eco-organisation takes the companies to task before admitting that the products are within the law and that the manufacturers are working to eliminate the use of the materials Greenpeace wants them to stop using.
Still, without Greenpeace nagging at companies and lobbying of governments, would Sony, Microsoft and Nintendo have achieved this much? We suspect not.
The study focused on six groups of chemicals, including bromine, which is used for fire retardancy; lead, used in solder; and phthalates and PVC, both of which are used in plastic coatings for wires.
Worryingly, Greenpeace found pthalates in both the Xbox 360 and PS3. Phthalates are believed to interfere with sexual development in male mammals. Were the consoles classified by Euro bureaucrats as toys, some of the phthalates they include would be not be permitted to be used in the machines. However, fanboys will be pleased to note, games consoles aren't mere toys.
Bromine was found in just over 50 per cent of the analysed consoles' components, including the PS3's fan housing and in the Wii's white case.
However, Greenpeace didn't find any lead in the eight or nine samples of electrical solder taken from each of the consoles. And it didn't find any cadmium in the wiring.
Greenpeace didn't single out the worst offender among the three console makers - the firm has a separate ranking system for that, which points the finger at Nintendo, since you ask. But it concludes that all three manufacturers must "make significant improvements" if they're to make good their own promises on the use of hazardous chemicals and materials.
Microsoft has, according to Greenpeace, committed itself to eliminating the use of PVC and brominated flame-retardants in its hardware by 2010. Sony's set to take the same action in the same timeframe - but not for its games consoles. Nintendo is also planning to eliminate PVC use, but Greenpeace said it hasn't been given a schedule by the firm.