Vye mini-v S37B sub-notebook
The people carrier of the sub-notebook world
The 701 has its flaws - the small storage capacity and the cramped, 800 x 480 screen - but then it is very cheap. Only slightly more expensive is the new Eee PC 900. It costs £330 - less than half the price of the S37B - but has an 8.9in, 1024 x 768 screen, and either 12GB or 20GB of storage depending on whether you choose the Windows XP or Linux version.
Unless you're desperate for Vista and/or tablet operation, it's hard too see what the extra £370 you'd pay for the S37B really brings you.
Well, it certainly gets 20m more battery life, as we've seen, and some extra performance too. Our PCMark05 tests show the S37B beating both the Eee PC 701 and the Maxdata Belinia s.book. But then the 701's processor runs at 630MHz - we can't see the Eee PC 900's 900MHz CPU being left behind by the S37B, though we won't know for sure we can test the new Asus machine with Windows XP.
PCMark05 Results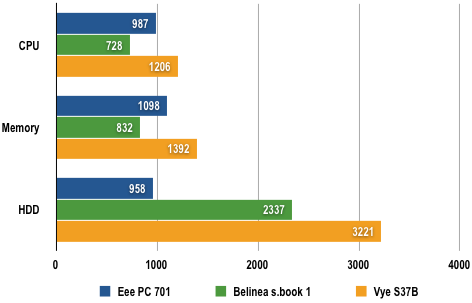 Longer bars are better
For the record, the S37B scored a paltry 97.5 in 3DMark06 - PCMark05's graphics test wouldn't complete, as it wouldn't for the other machines, which is why there's no score on the graph.
Windows Vista itself rates the S37B as 2.0, broken down as CPU 2.1, Memory 4.5, Graphics 2.0, Gaming Graphics 2.6 and HDD 4.3.
Verdict
If all you need is a spare notebook for email, internet and some basic office applications then a cheaper model such as the Asus will suit your needs adequately, but if you have the budget and you're looking for a more fully featured device, particularly in terms of battery life and the tablet functionality, then Vye's mini-V is definitely worth checking out.
Sponsored: Detecting cyber attacks as a small to medium business

Vye mini-v S37B sub-notebook
Not a bad bit of ultra-portable PC kit - but the Asus Eee PC 900 is half the price.