Samsung handset promises audio bliss
Hip Hop still won't sound any better though
You're bound to hear lots more about Samsung's latest handset over the next few weeks – quite literally. That's because the F400 features several audio 'treats' designed to make the phone sound better than most rival music players-cum-phones.
To achieve this aim, Samsung opted for help from big name audio brand Bang & Olufsen, which allowed the handset manufacturer put its ICEpower sound enhancement technology into the phone. This boosts quality of music played through the 3.5mm headphone jack or integrated speaker.
The phone manufacturer has a distinct liking for Bang & Olufsen, having used the audio firm's audio enhancement technology in both the SGH-E950 handset and the recently launched Soul.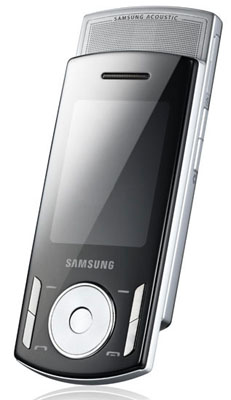 Samsung's F400: Bang & Olufsen sound enhancement wizardry on board
"Smart" bass technology also helps the phone, well, provide decent bass, and one-touch equaliser settings let you easily set up the phone to play, say, Green Day tracks just the way you like 'em. An FM radio is also available if you still can't find the right track to listen to from your collection.
Samsung's also remembered that phones are about communicating and so has thrown in tri-band GSM connectivity and 3.6Mb/s HSDPA downloads.
The three-megapixel camera should be good enough for snapping pictures of friends en route to gigs, while images are stored on Micro SD cards and displayed on the phone's 2.2in screen.
Samsung's F400 is set to be released later this month or early next month in Europe, but a UK specific release date or price hasn't been played loud and proud yet.