Strong rumours are circulating regarding plans for a European manned spaceflight capability. A firm announcement is expected later this month, which would outline a scheme based on modifications to the existing "Jules Verne" automated cargo module used to supply the International Space Station.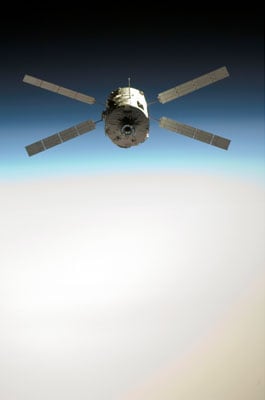 Spam in a can capability coming soon?
The BBC reports that German journalists heard of the plans on Tuesday from executives of the German space agency and continental aero-defence colossus EADS. EADS Astrium Space Transportation GmbH is headquartered in Bremen, where the advance briefing was given.
It appears that Astrium engineers are completing details of a plan to upgrade the Jules Verne Automated Transfer Vehicle (ATV) with the various extras it would need to carry humans into space and back again. This wouldn't be as big a deal as it might sound; the ATV is already habitable so that space station astronauts can enter it after docking and retrieve the cargo. As the Beeb notes:
It also has a pressurised section that is "human rated" in the sense that, once docked to the 340km-high station, astronauts can move around inside it safely in just T-shirts.
(NB: The space station is big, but not that big. And we suspect that the crew normally wear pants.)
However, there would need to be proper crew facilities for an independent manned trip, plus heatshield and landing systems for re-entry. The current ATV design is one-way only, intended to be thrown away after each mission.
But it seems that the Astrium boffins in Germany reckon they could fit this sort of gear to an ATV easily enough. Such a ship, shot into space aboard an Ariane lifter, would offer Europe (or anyway the European Space Agency, which isn't quite the same thing*) its own manned spaceflight capability. It wouldn't be a snazzy spaceplane like the long-since cancelled ESA Hermes; but even NASA has given up on such ideas. For now, humanity has largely abandoned reusable ships in favour of simple "spam in a can"** missions where personnel zoom into orbit scattering discarded boosters and drop back down to land by parachute.
The ESA is currently recruiting a new generation of astronauts, as it happens, but under current plans these individuals would only fly into space aboard US or Russian ships.
According to the Beeb report, full details of the manned ATV plans can be expected at the Berlin Air Show later this month. ®
Bootnotes
*The ESA doesn't report to the European Union government in Brussels, having its own governing council and a different list of member states - though it does cooperate closely with the EU. Also, ESA has some transatlantic aspects, most notably via Canadian participation.
**Legendary US test pilot Chuck Yeager of sound-barrier fame is said to have stigmatised early US astronauts with this phrase. He was referring to their perceived lack of any useful control over their ships, in his view demoting them from the status of pilots to mere payload. That said, though the Shuttle does carry a pilot, he or she is generally thought to be heavily dependent on computer assistance.
Sponsored: Webcast: Ransomware has gone nuclear