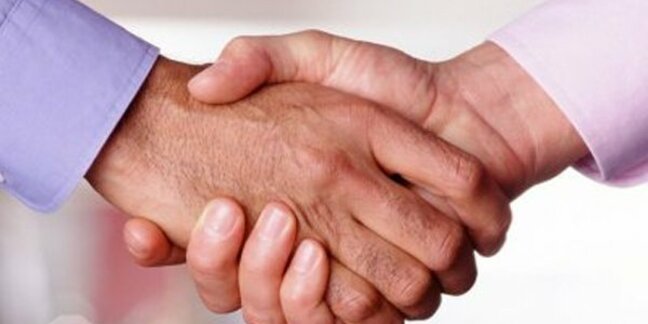 Bill Gates bigged up collaborative technologies and demoed a new device called the Touch Wall, which looks to us rather like a wall-mounted iPhone.
Gates, speaking at the firm's CEO Summit at headquarters in Redmond, used much of his chat with 100 or so heavyweight execs including billionaire investor Warren Buffett, to pitch the firms' collaboration and productivity platform SharePoint Server 2007.
Gates said that web-based collaborative software leads to "direct empowerment of end-users so it doesn't require the time delay and cost of getting things done," reports Dow Jones.
The Microsoft co-founder and CEO also pointed to the limitations of using email in the corporate environment. Gates said: "That form of communication is inefficient when you get to having to make decisions that include groups," .
Collaborative technologies such as SharePoint, which uses similar elements of networking sites like Facebook, would, according to Big Bill, become as ubiquitous in the workplace as Microsoft Office apps proved to be in the 1990s.
He added that collaborative software could help make organisations "paperless" and said that the "incredibly complex process" behind HR management would improve if companies adopted – wait for it – SharePoint.
Big Bill gets touchy-feely with Warren and chums
Microsoft's Touch Wall was also demoed at the event. According to various reports, the device is a vertical version of the oft-touted Surface computer that Gates has rolled out during many of his farewell speeches.
The prototype touch-based computer uses lasers and infra-red lights to offer business customers an "infinite canvas" concept which allows them to give presentations.
Gates said, "The way we interact with these devices today is overwhelmingly the keyboard and the mouse. But we're beginning to see a change from that into natural user interfaces."
Surprisingly, Gates didn't give Live Mesh – which represents Microsoft's key biz strategy for the future – so much as a cursory mention at the event.
Gates steps down from day-to-day activities at the firm on 30 June to concentrate on his philanthropy. ®
Sponsored: Webcast: Simplify data protection on AWS