Review Thankfully, the typical English weather recently relented and gave us a few sunny days in which we rushed outside to test some summer kit. This curious laptop case was one such item.
This barmy bag first caught our attention back in January, at which point we knew we had to have a closer look. We requested the professional model, the LapDome Planet Business, which actually incorporates two bags: one that provides the shaded workspace and a second, more traditional laptop carry case. Quite why there are two is beyond us, as you could still carry your laptop in the folded-up dome bag, thus eliminating unnecessary baggage.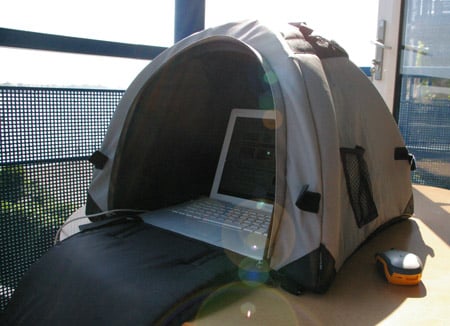 LapDome's Planet Business: type and tan
Both bags fit together to make them easier to carry, should you still feel the need to carry both. The promotional blurb informs us that they "count as one bag while travelling". Whether this is officially the case is doubtful, but to be honest you probably could quite easily get away with taking both onto a plane as one piece of hand luggage if they were fastened together tightly.

The velcro straps secure the compressed dome bag
The dome part of the set springs into shape and retains it with a reliable sturdiness, measuring approximately 50 x 45 x 37cm when fully open. It's a little weird reaching in and typing, but if you're adamant about working on your tan at the same you're working on a laptop then this kooky contraption does actually provide some serious shielding from sunlight.
The front opening of the LapDome unzips and folds out like a giant tongue. Again, it looks a little odd, but it does provides a nice cushion for your forearms while you're typing.
The dome case features a little slot at the rear for power and security cables and a lockable front zipper door. There's also a handy pouch on back for DVDs, spare batteries, cables, AC adaptors and the like.
We're informed it will even comfortably accept a 17in laptop, although it will be a snug fit. Our 13.3in MacBook sat inside just fine and dandy.

The LapDome does bear an uncanny resemblance to a... cat tent
The LapDome also features something called a "glare shield" inside the bag. It's a rectangular piece of material attached to the inside on one side and then secures around the back of the laptop and covers the keyboard so you have to type underneath it. This was just annoying and didn't offer any additional shading. You can tuck it away though if you don't want to use it. Both bags come with carry straps.
Verdict
Comedy value aside - and it does provide a good chuckle - this is the best product we've seen for sitting in the warm sun and still slaving over a hot keyboard. At just $75 (£38), it's a snip.
And when you're not using it, your cat will no doubt find it a nice, cozy place to nap...
Sponsored: Webcast: Discover and secure all of your attack surface

LapDome Planet Business laptop bag and shade
A quirky little number, but if you're a dedicated worshiper of the Sun God, any help is welcome in getting around glare.
Price:
$75 (£38) plus shipping RRP