LG KF700 slider phone
Triple-action, touch-screen handset
Review LG has come up with another touchscreen option to get your fingers working: the LG KF700 sliderphone, which combines a tap-to-control UI and dial-spin control with HSDPA 3G high-speed connectivity.
How many different ways can you package touch technology for mobiles? LG seems determined to find the answer, with a flurry of recent handsets offering different takes on touchscreen operation.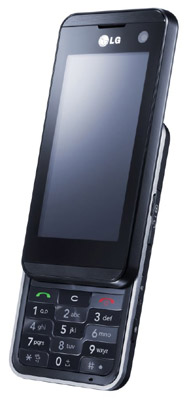 LG's KF700: enough space for tapping, scrolling and swiping
While its KF600 debuted a two-screen approach, the KF700 has three input methods: a large touchscreen, a slide-out number pad and a spin-to-scroll thumbwheel on the side of the phone.
The touchscreen control system is similar to that employed on the successful LG Viewty, although this device is a slightly smaller, with a short feature run-down than LG's flagship touchscreen phone.
Are three input methods strictly necessary? LG reckons that it's set up the KF700 so each of the three takes care of business in a way that best suits the input style. The 3in, 240 x 480, 262,000-colour display is obviously the most important part of the user interface. It provides plenty of room to view images and video content, frame shots for the KF700's three-megapixel camera, and browse web pages in landscape mode. It gives enough finger space for tapping, scrolling and swiping your way through the menu system.
The slider design gives the KF700 the girth of a sturdy candybar phone, measuring in all 102 x 51 x14.5mm and weighing 107g. Slipping up the screen, the number pad beneath has a conventional layout with well-sized number keys on a flush surface plus call, end and clear buttons.