Cruciform MP3 player wins hearts of goths, god-rockers
Audio enlightenment
If you like music to have some religious significance, then the cross-shaped Keo player hits the nail on the head, so to speak.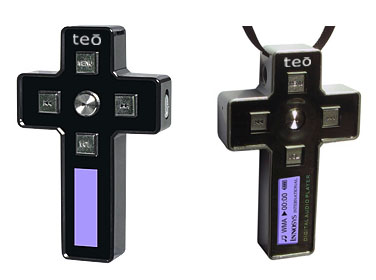 Keo MP-301: wear it around your neck to give religious beliefs an audio backing
The MP-301 has track selection buttons on either side of the cross, whilst the top section offers a menu button. The elongated down section of the player has a volume button and blue backlit display. A play button rests right in the centre of the cross.
There's 1GB of storage built into the player and manufacturer Ice Tech claims the MP-301 will give around 12 hours' audio playback. After that, you'll need to recharge it over USB to bring it back from the dead.
Several audio formats are supported, including MP3 and WMA, whilst the player also functions as an FM radio and digital voice recorder. The player also displays text files, but Register Hardware thinks the screen may be a tad too small to easily read anything but the briefest of Biblical quotations.
Ice Tech's cross-shaped MP-301 is available now for around $50 (£25/€32). A UK price hasn't yet been proclaimed from on high.
Sponsored: Practical tips for Office 365 tenant-to-tenant migration