Iubi Blue personal media player
Not a bad box of tricks
The Blue was found a tad wanting, with just a little too much in the way of blur during fast panning shots, a rather washed out colour balance and some rather excessive pixelation on the darker parts of the screen. Of course, you have to remember that it is a handheld PMP rather than an HD TV, so its 'failings' would probably not be that obvious if it wasn't being compared back-to-back with the Cowon A3, which has a screen that is simply glorious.
The Blue's lower resolution display also let it down when it came to viewing still images, which again lack the sharpness and clarity of the same shots dispayed on the Archos and Cowon devices. Strangely enough, the Blue also refused to recognise a whole folder's worth of JPEGs that showed up just fine when loaded onto the other devices.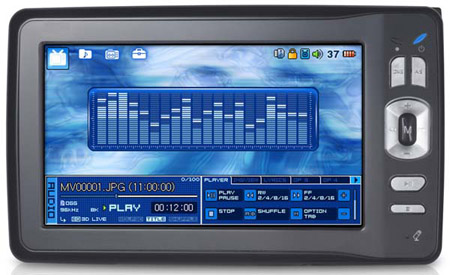 Audio on a par with any iPod
Sound modifiers on the Blue run to Bass Boost, Treble Boost, a 3D Depth setting and something called Wolfson3D, which doesn't actually seem to do much at all despite being supplied by Wolfson Microelectronics. Switching all the effects off and the Blue has a rather raw sound, but it still packs a hefty punch and is on a par with any iPod.
What the Blue does have in spades is volume. It incorporates small stereo speakers tucked around the back - the Archos, for instance, has one, at the front. Listening to a PMP through its speakers isn't generally a rewarding experience, but the Blue was by far the best that we've seen so far. Unlike the A3 or the 605, the Blue comes with A2DP Bluetooth, hence the name, so users can revel in the joys of wireless headphonery. This is definitely a big plus.
In terms of value for money, the Blue has the Cowon A3 whipped like a West Coast Eagle. Whereas the A3 will set you back around £230 for the 30GB model and £280 for the 60GB unit, the Blue will only lighten your pocket by £180 and £230, respectively, for similar capacities.
Verdict
So, does the Blue dip its fly in the Cowon and Archos ointment? Well, to a degree. The A3 has by far the best video playback quality of the trio, while the 605 is smaller and more pleasant to use. Of course, the 605 also has Wi-Fi, but as the current Archos fifth-generation web browsing experience is poor we wouldn't let that sway us. What the Blue has going for it is a more than decent battery life and Bluetooth, so if long airline trips or a hatred of earphone cables are your thing, it could serve you well.

Iubi Blue personal media player
Lacks the degree of video fidelity that makes other PMPs appealing, but the Blue is not a bad box of tricks.
Price:
£180 (30GB), £230 (60GB) RRP