Fujitsu develops world's first hi-def train simulator
Going loco - virtually
Writing down the number of the 10.47 to Chichester standing in the freezing cold is fine, but now you can pretend to be the actual train driver, thanks to Fujitsu, which has developed the world's first HD virtual railway.
Well, sort of. The system, developed by Fujitsu and simulation specialist Ongakukan, coaches future train drivers who sit in a purpose-built loco. Drivers are presented with hi-def video shot on real train lines. The images can be played back at varying speeds to represent the velocity of the engine. Presumably, leaves on the line isn't one of the settings...
Fujitsu said that because the system provides accurate responses to the operator's movements, such as slamming on the brakes, the trainee train driver receives "an unprecedented level of realism".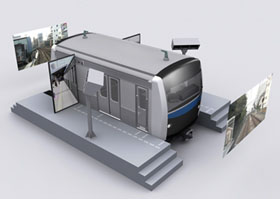 Fujitsu's train simulator combines HD video with an actual train carriage
The company claimed this gives a "better approximation of the operational environment" than provided by existing driver-training systems, which tend to rely on computer-generated grahics of, well, tracks.
Because the simulator uses HD video of real-world train tracks, potential drivers of the 08.40 to Bristol Temple Meads can catch realistic glimpses of signs, buildings and other landmarks along the route. Footage can even be updated through a PC, allowing users to swap at whim between views of lots of exciting train lines.
Fujitsu's simulator is, as you'd expect, currently only intended for commercial use. But the company is considering bringing the system to transport museums and amusement arcades.
Sponsored: Minds Mastering Machines - Call for papers now open